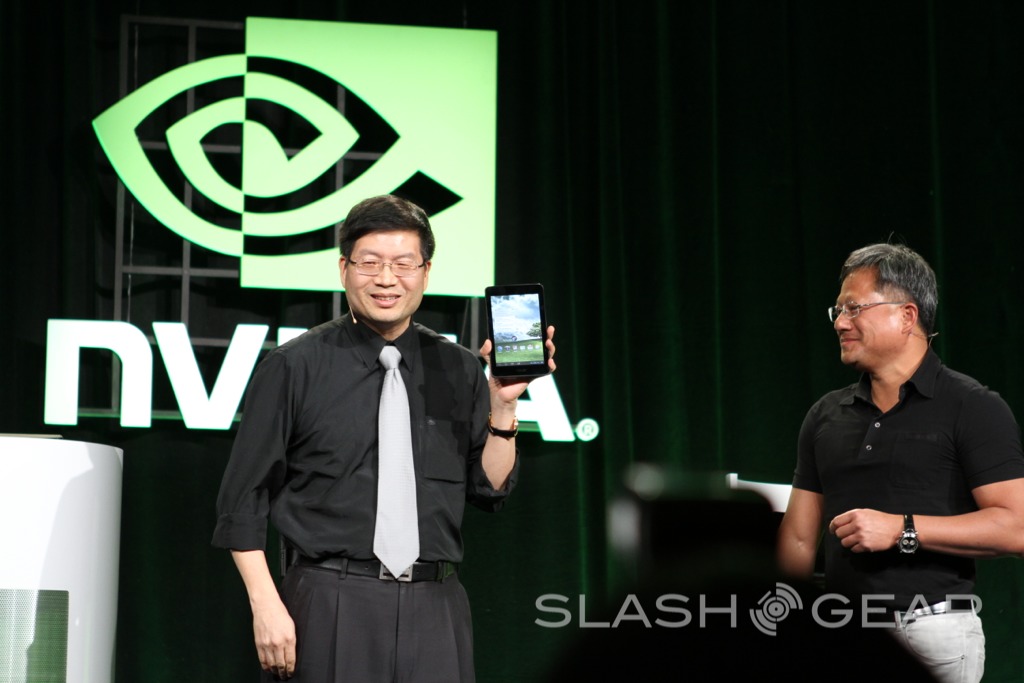 Live at the NVIDIA CES 2012 Press Event today we saw plenty of the ASUS Transformer Prime, and also a newbie to the market that as far as we know will be called the ASUS Eee Pad MeMO. Not only is the Prime the first official (as in Google Official) Ice Cream Sandwich tablet, but ASUS will also have the first 7″ ICS tablet too.
Being shown off on stage but quickly hidden from our cameras was the new ASUS 7″ Android 4.0 Ice Cream Sandwich tablet. This 7″ slate is aimed at the budget crowd but in no way, shape, or form a budget device. All those 3rd party tablets lacking Android Market support wont have anything on this — for now. ASUS has bundled a 1280 x 800 resolution 7″ slate with the quad-core Tegra 3 and 4.0 ICS. What's better than that? The Price!
While no official release date was given, we can expect to see this tablet hit the shelves in early Q2 2012. We know the magic number has been $199 as of late but most of those aren't nearly on the same level as the new ASUS tablet either. ASUS will be selling this new and impressive tablet for only $249 as the image above suggests.
We don't have all the details as far as cameras, Micro-SD slots and things of that nature but the important ones for now we do know. And that is ICS, Tegra 3, 7″ and one more time — Android 4.0 Ice Cream Sandwich. If you've been looking for both a powerhouse Android tablet that also has as much power as you can possibly imagine this is exactly for you. Well done ASUS — bring it on!
Note: We've seen reports of a MeMO with 3D and stylus support as you can see below. Until ASUS releases more details we'll leave it at that, but the links are available below.