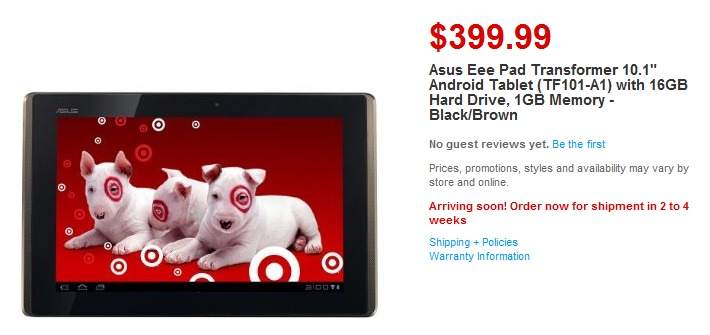 The Asus Eee Pad Transformer has showed up on Target's website, at the low low price of $399. This is the 10.1″ tablet with 16GB hard drive, and 1GB memory. This market-defeating price is lower than the competition and the product is just as good as the competition – at least that's what they're hoping you'll think! This slate has been causing quite a stir, what with running Honeycomb, sporting a dual core, and having a great build quality – having the Asus A500 on hand right this moment we can say right now that a more fashionable cousin would be right up our alley, and the Transformer fits that bill like no other. Target, here we come!
As of this writing, the price is no longer showing up on the product page, located here. The site simply states that the tablet is out of stock. All this means is that the Transformer will soon be in stock, but that you cannot purchase it right this moment, no matter how hard you try.
Our main European Chris Davies is sure to see this sassy monster before anyone here gets a tap – and he'll be shooting that monstrous review out soon, if I'm not mistaken. Grab hold of this beast double-clawed before you're left out in the cold, before it even launches! Keep your eyes peeled and your nose ground out to Android Community for more tips on when the Transformer will be available everywhere!
BONUS as our good pal Artem over at Android Police lets us know, there's a super secret $40 off coupon out there right now by the name of TCA27BAR. If you enter this in whilst checking out, poof! Fourty dollars back in your pocket. But there's a catch – Target's supply of Transformers is backordered 2 to 4 weeks. That's if you use the coupon or not. The same goes for Amazon whose supply is again, powered by Target. Thusly, this is probably going to be your best bet in the states. Got a better one? Send it in!