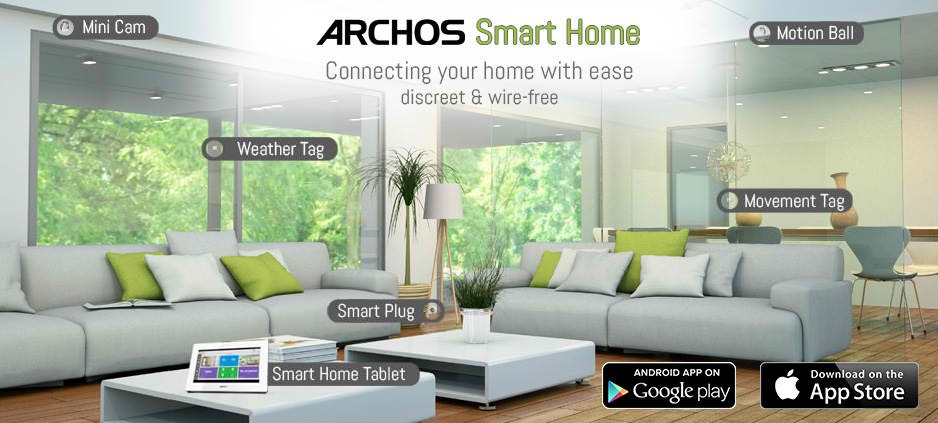 Tablet and Android device manufacturer Archos continues to put out various devices in an effort to diversify its product catalog, which the new Smart Home system is part of. Archos, which started in portable media players, now is trying to enter a very premium home automation market by leveraging on relatively cheaper devices and the Android app ecosystem.
The Smart Home system is basically a network of wireless devices that one can control using an app – whether on the dedicated Archos Smart Home Tablet, or the app installed on a remote Android or iOS device. The tablet itself is a fully functional tablet running Android 4.2 Jelly Bean out of the box. Under the hood you will see a Rockchip dual-core processor running at 1.2Ghz, pretty decent 1GB portion of RAM, and a 7-inch screen. Not really a head turner, but it will do what it's made to do – which is bring together the whole Smart Home system – and then some.
The mini wireless devices provide the versatility of the Smart Home package. Included in the "starter pack" box – priced at around USD$345 – are 2 Weather Tags, 2 Movement Tags, and 2 Mini-Cameras. Other accessories like the Siren, Motion Ball, and Smart Plug are purchasable add-ons – and really, you need these add-ons to get the best out of the Smart Home system.
The Smart Home system is based on creating certain scenarios or changes in your home and having the system react to it by either prompting an action or giving the owner certain information. For instance, the combination of a Motion Ball and a Mini-Camera will allow you to be informed via email when someone is at your door. The camera can even take a picture of the detected person and send it to a specific email address. And with Tasker integration, the whole system has the capability to open up a wider range of programmed tasks. The system is targeted to modern wireless-capable homes with the internet bandwith to spare. Time will tell if these products are able to make a foundation for Archos in this market.