ARCHOS, known players in the lower tiers of the Android ecosystem are branching out. A few months back, they released plans to enter the home automation market. Now they are looking to barge into what seems to be a burgeoning niche of virtual reality (VR) wearable devices, with the new ARCHOS VR Glasses, which will reportedly be available in November for a price point as low as USD$29.99.
From what ARCHOS is saying, their VR Glasses will work in a coupling system where the phone is mounted on the wearable itself. We have no idea yet how that system is supposed to work. Will it be using the display of the phone itself and project it somehow into the glasses? It sure sounds that way, as ARCHOS says that it is recommending at least a phone with a 5-inch full HD display for optimum performance of the device.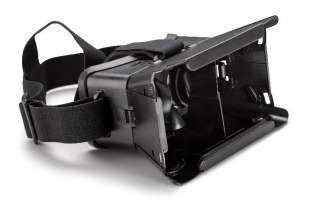 The VR device feels more like a projection device at this point (remember those big screen projection TVs of the 90s?) than a real robust VR device like the Oculus. The fact that ARCHOS says it is platform independent – which means it will work with Android, Windows Phone or iOS devices – surely point to this probability.
But at a price point like that, ARCHOS again makes an interesting argument for a 3D-capable user-wearable VR device. Cost matters, and ARCHOS has a lot of history in lowering costs so that technology can reach the masses. Will this work? Place this in the "watch this space" section.