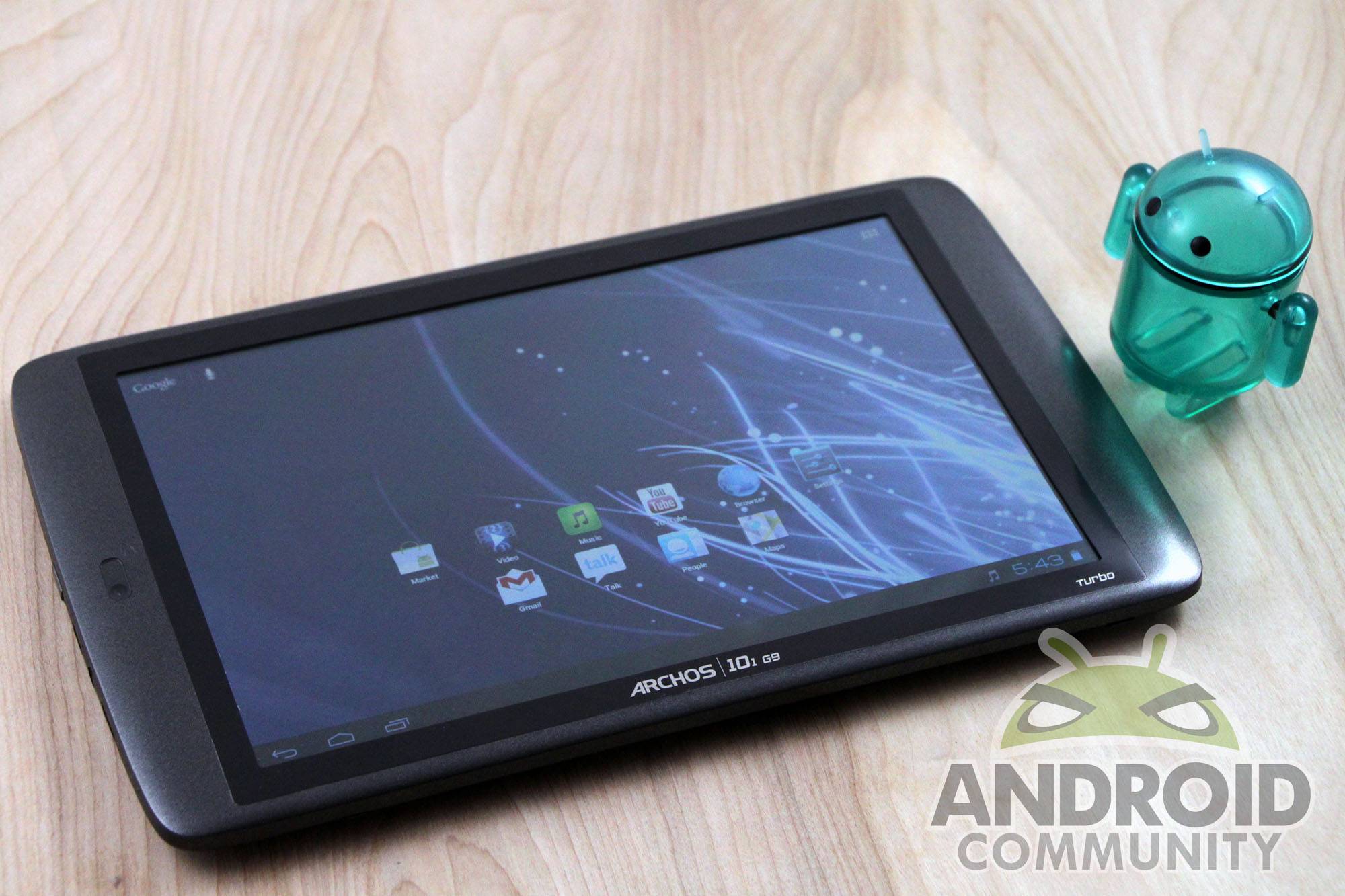 Archos has always had a focus on video-optimized and flexible hardware, since long before their "tablets" started shipping with Android. With the current generation of mobile hardware, they can add even more media prowess to their utilitarian designs – in at least one case, even without a major overhaul. The 101 G9 Turbo edition gets its elongated title from the boosted 1.5Ghz dual-core processor. Some relatively quick coding from Archos' software department has also given later models Ice Cream Sandwich out of the box, with Google certification – in other words, it's exactly what you want when you hear the words "Android tablet", at least from a software standpoint. Is it enough to overcome more well-publicized competitors?
Hardware
Archos is kind of like the Jeep of portable media player manufacturers. You'd have a hard time calling any of their current products "pretty", though "tough" isn't exactly the right word either – the 101 G9 is made from rather ordinary glass and plastic. A better word would be "utilitarian", a philosophy that extends throughout the hardware. On the left side of the tablet you'll find a plethora of ports: mini-HDMI, MicroUSB, MicroSD (unlabelled, and right below the MicroUSB port), a standard headphone port, and a plastic dummy peice that slides out to reveal a full-sized USB port. In Europe this plastic piece can be replaced with a separate 3G modem, but no carrier on this side of the pond officially supports it. Even so, you can plug in a flash drive or external hard drive to augment the tablet's 8GB of storage.
Controls are simple and unfortunately less than ergonomic. The power button hides between the ports on the left side while the tiny volume buttons sit along on the right. Neither are ideally placed – when holding the tablet in either hand I tended to accidentally tap them with my palm. The front of the tablet is bare aside from a lot of grey bezel and a 720p front-facing camera, the only one on the device. On the back of the tablet is a large and very loud speaker, the plastic USB port cover and… a kickstand.
I love kickstands on mobile devices. And while this isn't the first I've seen, I'm always happy to use them. The small plastic stand folds out at about a 35 degree angle, and stays put when fully extended or retracted. That said, it's only truly useful when watching video or using the 101 G9 Turbo in "desktop mode" with a Bluetooth keyboard and mouse. The reason for this is its placement, almost on left edge of the device. When extended, the tablet will rock back any time you touch something on the opposite side of the screen – like, for example, the essential Search and Voice buttons on the launcher, or the primary button in the Google Play Store. A center placement might have solved this issue.
Software
This is Android as it's meant to be experienced: pure Ice Cream Sandwich, with no overlays, bloat, bells or whistles. Even with the advancements in the likes of TouchWiz and Sense, there's nothing that beats unadorned Android for speed, stability and flexibility, at least in the opinion of this reviewer. Yes, there are extra apps included, but none of them are unwelcome (which is more than I can say for ridiculous carrier fare like AT&T Navigation). What games are here are fun, and even if you don't want them, you can remove them completely.
But hold your horses: in among the likes of Evernote and Nook are Archos' custom Music and Video apps, two programs that you'll want to keep around. Not only are they surprisingly well-made, they're considerably faster than Google's alternatives, though they don't integrate with the Google Play Store. Music comes pre-packaged with about two dozen free and popular songs, while the Video app has a collection of movie trailers. If you've got a bunch of hi-definition, DRM-free video files sitting around (I won't ask where you got them) Archos' video app can play 1080p h264 vids without a hitch, though of course you'll have to use and HDMI cable to make the most of it.
Media and Performance
Considering Archos' history and the additions of the Turbo model, this section will be of the most interest to those considering the upgrade over the standard 101 G9, which also gets an Ice Cream Sandwich software update. And considering that the tablet is running the latest and certainly greatest version of Android, the 1.5Ghz TI OMAP 4460 and 1GB of RAM are much appreciated (this is the the same combo as the Galaxy Nexus, but clocked a little higher). It's not a speed demon by any means: the Quadrant score is just below 2400, a little lower than I'd expect. But based on my experiences in the pack-in games and with Grand Theft Auto, it should be fine for all but the most demanding of gamers.
Through the standard Android interface and especially when playing video, the 101 G9 shines. Full Google certification means that you've got access to the likes of Gmail, YouTube and the Google Play Store, along with the nearly limitless media options this provides. The one thing I found myself wishing for was access to Video On Demand, which of course isn't available as an app – but thanks to the Flash Player I was able to watch a few episodes via the Android browser.
The combination of a loud speaker and kickstand would make the 101 a perfect video tablet – if it weren't for the somewhat lacking screen. Even at full brightness it's duller than most and there's a good bit of light leakage, which isn't helped by the glossy nature (something that's admittedly shared with all modern touchscreens). That said, the utility of the kickstand, the 10.1-inch 1280×800 screen and the excellent video decoding of the included Video app go a long way towards making up for this.
The full-sized USB port is great if you've got a large collection of videos that you want to quickly access via the tablet. For the bigger USB drives you'll need an adapter – there's only a few millimeters between the port and the tablet housing to accommodate an external gadget. And for a tablet with so many USB options (including trickle charging) it's disappointing to see the MTP standard used instead of the more reliable USB mass storage.
Battery and Value
The 101 G9 lasted didn't last quite as long as I'd hoped a device this large would: got between 7 and 8 hours of web browsing and music on a charge, which of course went down when I added gaming and video. That's more than enough to get through the average plane flight, no matter what you're doing, but I've come to expect more longevity from a WiFi only tablet.
The 8GB version comes in at $329.99, which I feel is a little pricey. But for the 250GB version (which houses a traditional hard drive instead of flash storage) at $389.99, it wins the price wars by virtue of being the only contestant in that capacity class. If you need monster storage space without adding any external hardware (and don't mind slightly diminished performance in some areas) it's a good deal. Keep in mind that both versions are frequently on sale at various retailers. The smaller Archos 80 G9 is considerably less expensive, though the screen goes down to 1024×768.
Wrap-up 
Archos tablets are strange beasts, cousins to the ASUS Transformer tablets in their focus on capability over style. They're also cheaper, though not by much in the case of the 101 G9 Turbo. The component upgrades are enough to make it worth the extra money versus their older counterparts, but the build quality, screen brightness and battery life may make it worth the extra dough to step up to a more premium manufacturer.
There are two exceptions: one, those who love watching video, and lots of it, from a lot of different places. Archos' integrated video player is second to none, and its options for storage expansion can't be beat. The second exception is someone who absolutely must have vanilla Android, and the latest version at that – and doesn't want to modify their tablet to get it. Though the 101 G9 has only been out for a few weeks, it received its first maintenance update from Archos while I was using it.
Long story short: there are prettier, thinner, and cheaper machines out there, but none of them offer the combination of hardware features and blessedly clean software that the Archos 101 G89 Turbo does. If you want pretty, get a Galaxy Tab (or, you know, an iPad). If you want a machine that specializes in video and doesn't get in the way of Android, give some serious consideration to Archos.