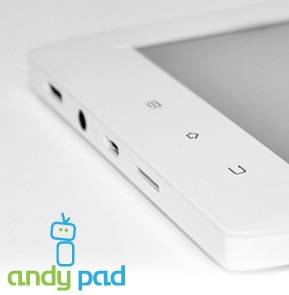 The AndyPad bargain Android tablet has been further detailed, and it looks set to be a better deal than previously expected. Tipped at "under £200" ($324) by UK company AndyPad, in fact the 7-inch slate will be just £129 ($209).
That gets you a 1.2GHz ARM Cortex-A8 processor, WiFi connectivity and Android 2.3 Gingerbread (rather than Honeycomb). It'll come preloaded with Facebook, Twitter and various games and other apps, along with 1080p HD output through a standard HDMI port.
Other connectivity includes microUSB and a microSD card slot. Launch is expected in 75 days, according to the company, which puts it about two and a half months out.