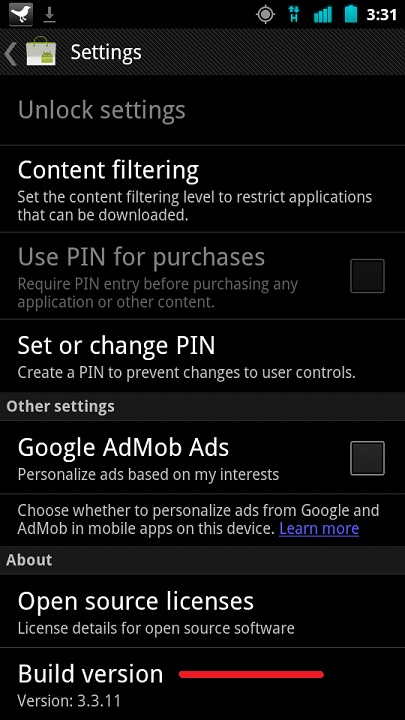 Whoa another update to the Android Market appears to be rolling out today. While many are still currently on the new 3.1.5 version Google is now pushing a much improved Android Market v3.3.11 to get us up to speed above the latest 3.2.0 that leaked from Ice Cream Sandwich. This appears to be the absolute newest market from Google although we are hearing it wont play nice with Honeycomb so flash at your own risk. We have tons of new options and settings and I'm really like the auto-update only over wifi option for those larger games that take forever. More details and download link after the break.
Aside from the few UI tweaks and changes they have added some awesome new features or settings that many have been waiting for. Instead of manually making certain apps auto update now you can check one box for all, this is nice and about time they've added that one. We're also seeing options to update over WiFi only for those bigger games. Just like Honeycomb apps we'll now get the icon shortcut added right to our homescreens automatically, and you can opt out of that too of course.
Not only that but there is a new icon in the application tray for the Android Market, as well as the entire app having slightly smaller font. My personal favorite is the graph showing the rating and level of stars each particular app has received, now we'll be able to actually tell how many people gave it a 1 star rating before we download. We are still enjoying the new market and will update once we notice any additional changes. More details are available at the source below. Download the new market at the link provided and let us know if you find anything else special or new.
Android Market v.3.3.11 — Download (2)
[via Android Police]