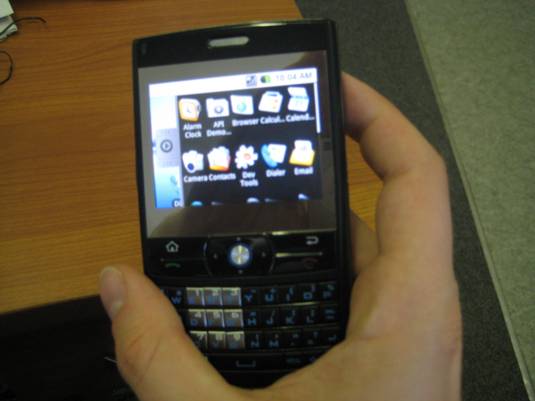 There was not much new reported in the way of Android this week partially due to the to CES this week in Los Vegas. We will be playing catch-up this coming week not only in Android news but also in the community as well. This week started off with a young girl by the name of "Kommodore" who got an Android tattoo on the inside of her arm. Though plenty of people have talked about it, no one has actually gone through with it.
Also this week Mr. Blurry Cam got us some pictures of the new Kogan Agora Pro. This is not the first time we have seen this handset and it is no surprise to us how it appears. One thing we did not account for in the previous pictures is the overall plain square look. We certainly hope the handset manages to get another tweak before we actually see it come to market.
At CES this week we did get to see some Android displays. This one however is not particularly a device, more like a prototype demonstration of what Android is capable of. We did manage to snag some video of it in action though. Qualcomm demoed Android on a large WVGA screen with 1.5GHz dual-core CPU complete with integrated HSPA+, support for1080p high definition, mobile TV and also GPS capability. This certainly shows us that Snapdragon is ideal for Android with its heavily Internet based functions.