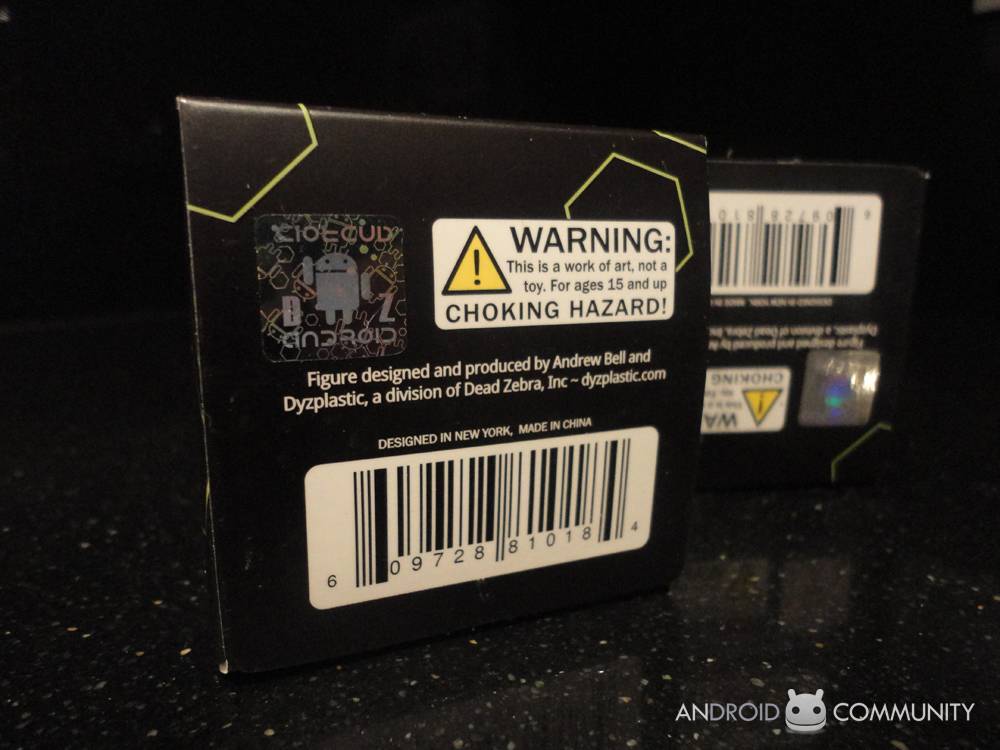 We know you love these little guys. Even if you wont admit it, even if you say you're an adult, a grown man or woman, for gosh sake, you'd never have such a little kid object sitting on your desk! But we know better. We love em, and you love em, and the one thing you like better than happening upon them in the store available for purchase is happening upon them here, not only before they're technically available to the public, but here free for the winning! It's an Android Community weekend contest!
The contest is easy, the rules quite simple, even though they look daunting.
HOW TO ENTER
All you've got to do is one of the following: first, you can follow our [Twitter profile] and prove it, next, you could follow our brand spankin' new [Facebook page] and prove it, finally, you could prove your love of Android with a timestamped photo of yourself proving it!
What constitutes proof? If you're following us on Twitter, take a screenshot of us showing up in your "Following" list.
If you're a fan of us on our brand new Facebook page, take a screenshot of a comment you've made on our page's wall (this works because if you weren't a fan, you'd be unable to comment in the first place!)
If you'd alternatively like to show your fanhood with a photo, you can take a photo of yourself holding a timestamped piece of paper with a profession of your love (in any way you wish) for Android (or more specifically, Android Community.) The alligator here is almost doing it right – if he had a piece of paper with the time and date written on it, he'd be entered!
Each entry must be sent in via Twitter. Tweet the following:
@Androids #freeandroidgiveaway http://tinyurl.com/4ju6qfk
— with a link to whichever entry you chose to make a screenshot or a photo hosted on any number of photo hosting sites – just make sure its not set to private!
*Proving your fanhood is not the same as proving your manhood. If you prove your manhood to us via Twitter, you will automatically be disqualified… forever.
This contest begins when you see this post posted, and ends at midnight CST between Sunday the 20th of February and Monday the 21st of February 2011. That's this weekend, starting now!
WINNERS CHOSEN THUSLY
The way the winner will be chosen is: each entry will be recorded connected to your Twitter screenname. You can enter up to three times, one each of the three different methods of delivery of proof of fanhood. Each time your name is recorded (up to three times,) it'll be printed out and placed into a hat. When the contest entry time is over, two names will be chosen.
These two names will be listed here and blasted forth from OUR Twitter, that of course being @Androids. If your name is shouted but you do not contact us via email within 24 hours, we'll choose again. This email must be sent to yours truly: chris@androidcommunity.com, and no other. Failure to respond to the call by emailing me within 24 hours will result in your name being tossed out.
If you are chosen from the hat and DO respond within the allotted timeframe, we'll grab your physical address (no PO boxes!) and will have your prize (ONE Android Series 2 toy, unopened, per person, per household,) sent to your mailbox, completely free of charge. Rules are subject to change and we do hold the right to refuse any entries based on official affiliations (Vince can't win) or perceived misconduct.
Make sense? Any questions about this contest should be posted in the comments of this post so everyone can know of any confusions.
The prize for each person is a sealed box, but here's a gallery of both sealed boxes and opened toys to get you revved up about what you might be getting: