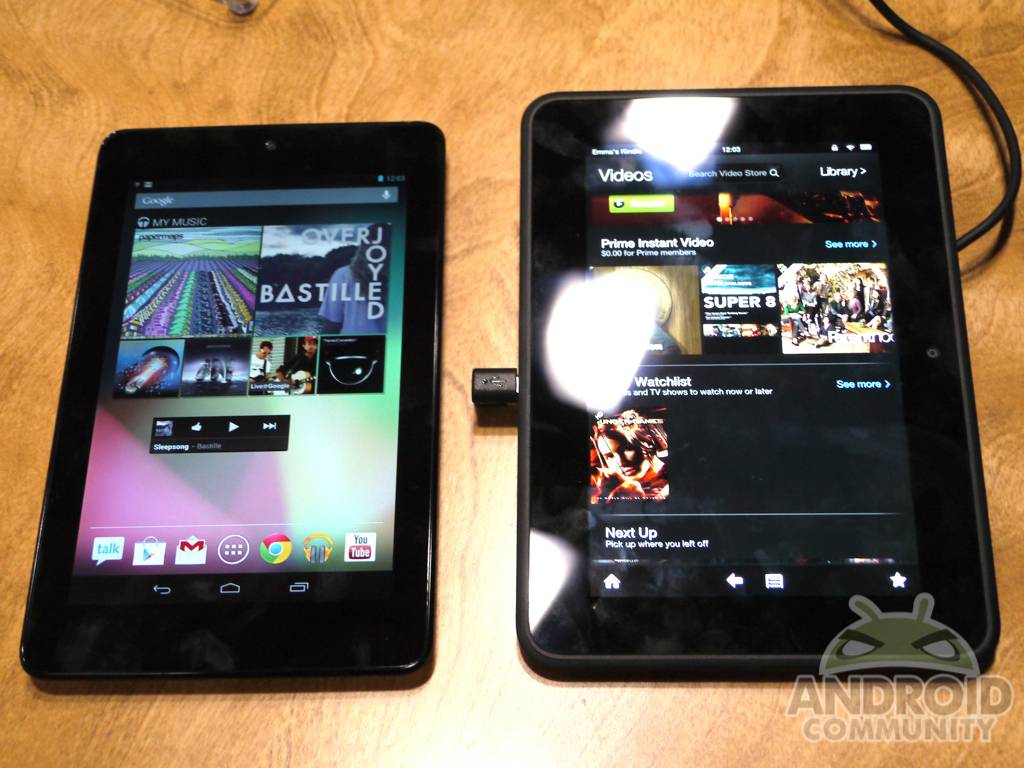 Yesterday Amazon announced their new Kindle Fire HD tablets, and while the 8.9-inch model might have stolen the show it's their smaller 7-inch model that could be the big hit. Amazon's new 7-inch Kindle Fire HD packs a pretty impressive spec sheet and a great price to match it. But is that enough for it to rival the Nexus 7?
The Kindle Fire HD received a pretty massive overhaul compared to last years model, but it still didn't quite hit some of those top end specs we've been seeing of late. We're not going to compare every last detail here and tell you what to buy — especially since we've only managed a few minutes with the newcomer. Instead here's some details about the differences, as well as a few fun pictures. For a full breakdown head to our own device comparison tool by clicking here.
Google Nexus 7:
-Android 4.1 Jelly Bean
-7-inch 1280 x 800 IPS Display
-Quad-core 1.3 GHz Tegra 3
-8GB storage (no SD slot)
-7.8 x 4.7 x 0.4 and 12 oz.
Kindle Fire HD:
-Android 4.0 ICS (skinned)
-7-inch 1280 x 800 IPS Display
-Dual-core 1.2 GHz TI OMAP 4470
-16GB storage (no SD slot)
-7.6 x 5.4 x 0.4 and 13.9 oz.
Now a few things out of the gate you'll notice the Kindle Fire HD only rocking a dual-core while the popular Nexus 7 has a quad-core. Amazon mentioned the Texas Instruments 4470 was actually "faster" than the Tegra 3 — although we doubt that. They also mentioned floating operations per second was better which helps with overall user interface performance. Then you'll also notice the Kindle Fire is a bit larger, has massive bezels, and weights a decent amount more too.
On the flip side the Kindle Fire HD is the first tablet to offer dual-band MIMO WiFi support that should seriously improve overall WiFi signal, speed, and performance so that is a big difference. It also has stereo surround with Dolby Digital Plus and HDMI-Out while the Nexus 7 has mono sound and no HDMI. Then for another win in Google's corner you have well over 650,000 apps in the Google Play Store vs about 55,000 from Amazon. The Nexus 7 also has NFC for Google Wallet and other sharing features as well as GPS, while the Fire HD has neither.
In terms of hardware they both actually feel quite excellent. Amazon really stepped up and refined their build quality over the original Fire, but I can't help but think it reminds me of the DROID XYBOARD tablets from Motorola for some reason. Both screens were pretty equal in terms of overall quality but I just might have to give a win to Amazon with this one. Their single layer touch sensor should help improve performance while reducing glare and keeping colors more accurate — which seems like a fair statement given our quick time with it.
Obviously the big thing here comes down to ecosystem and the software. Being a diehard Android fan I've already made up my mind that I'd rather have the Nexus 7 simple for Android 4.1 Jelly Bean (or just stock vanilla Android in general.) Amazon's heavily customized skin basically sets the blazes on Ice Cream Sandwich and makes it completely unrecognizable. Obviously Amazon has made the entire experience customized around their own ecosystem of options, apps, and content — and Google's done the same with their Nexus 7.
In general can the Kindle Fire HD "dethrone" the Nexus 7 from being one of the best tablets around? That question is ultimately up to you. I think there's room for both and neither will out-due the other. Amazon has a huge reach with their online store that can really help keep it in the eye of the public, but then so does Google when they put the Nexus 7 on their homepage.
Until we get the Kindle Fire HD in to review ourselves we'll reserve a true comparison and comment for later. For now enjoy a few additional images below, plenty of content regarding both devices, as well as our full device spec sheets at the end.
Which tablet would you rather own?
[device id=2841]
[device id=3436]