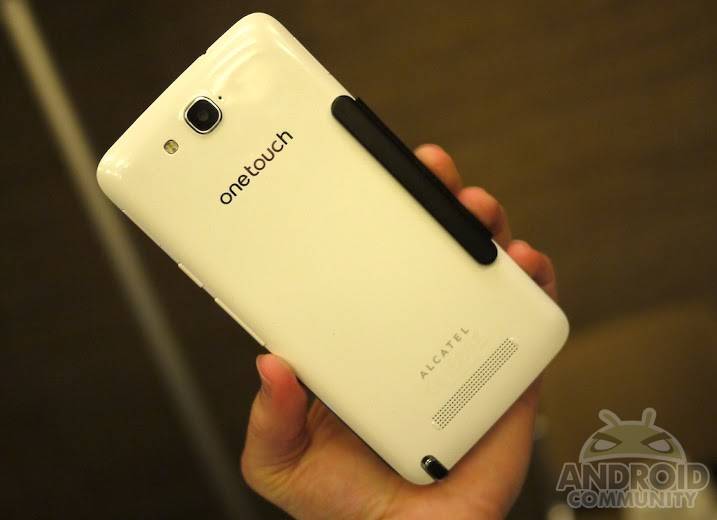 Similar to what we saw with Acer, Alcatel had quite a few device announcements coming out of IFA in Berlin. The Alcatel devices included several smartphones and a tablet, however it seems quite a bit of time and attention went into the One Touch Hero. This particular handset is sporting a 6-inch 1080p display and powered by a quad-core 1.5GHz processor. Perhaps more interesting though, Alcatel has released quite a selection of One Touch Hero accessories.
One point that is hard to miss with the One Touch Hero is the stylus, which sits in a spot that should be familiar to those who have checked out the Galaxy Note. Simply out, the bottom corner of the One Touch Hero holds the stylus. The stylus is capacitive and when removed from the holder, a floating widget opens up in the upper right hand corner. Said widget offers shortcuts to a note app and also to a calculator app.
Before we get into the remaining specs for the handset itself, how about we shift over to that e-ink case. We saw something similar from PocketBook for the Galaxy S 4, but in this instance the case is coming direct from Alcatel. There really isn't much to this one, well, other than how it allows you to send items over for viewing which should in turn help to conserve some battery life. You can see a few images of this setup in the gallery below.
Another case that was released for the One Touch Hero is called the Magic Flip. This one is a flip-style case that offers notifications by way of a series of LED indicator lights. These lights are on the front of the case and should be able to help prioritize whether you need to immediately react to the buzzing phone.
Looking back at the phone itself and in addition to the 6-inch display and quad-core processor, the Hero also has 2GB of RAM, a 3400 mAh battery, 2 megapixel front-facing camera and 13 megapixel rear-facing camera. The internal storage is either 8GB of 16GB, though that will vary depending on which model you have. The 8GB model is a single-SIM card and the 16GB model is a dual-SIM. Both models also have a microSD card slot.
Otherwise, some of the remaining accessories for the One Touch Hero include TV Link and a pico projector. The TV Link option, as the name would imply, will allow you to project your phone to your television. Basically, you can mirror the phone display on your television. Shifting over to the pico projector and we find a device that is capable of shining a mirror image of the display to more than 70-inches using 12 lumens.
With that, Alcatel is expected to have the One Touch Hero smartphone available in October. Needless to say, we have yet to see which markets the handset will be available or how much the handset is expected to cost. Aside from Alcatel, make sure to remain focused on our IFA hub for more news and hands-on coverage coming out of Berlin.