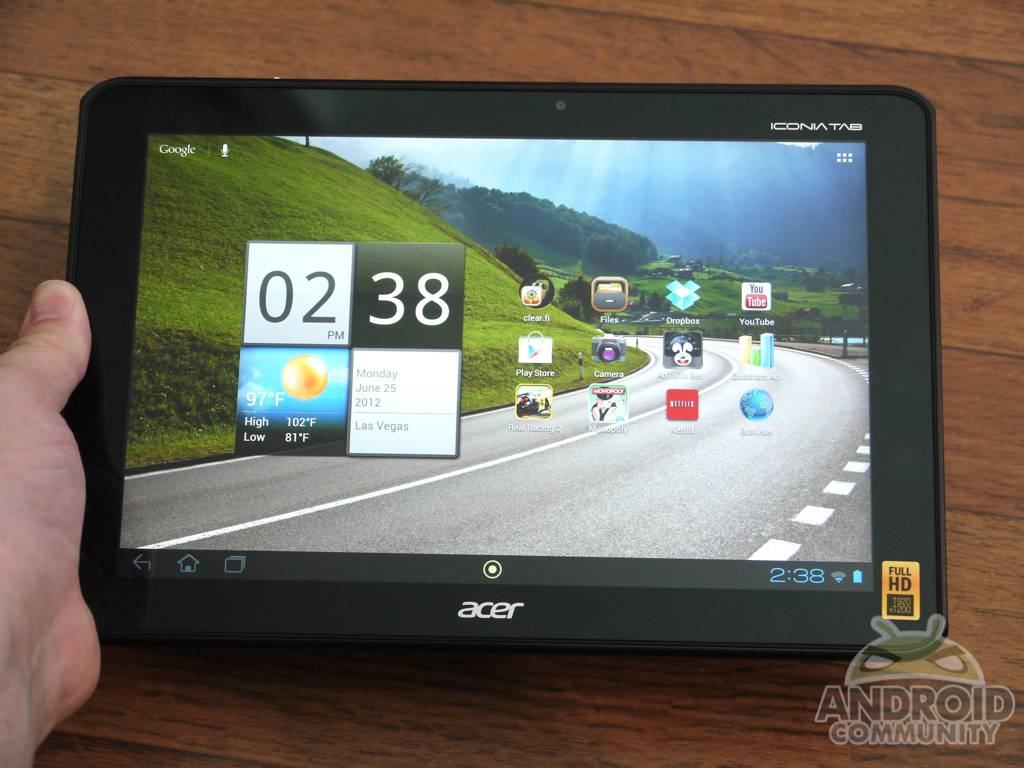 Acer's Iconia Tab A700 is the newest slate to hit the streets, and it comes complete with some top tier specs to keep everyone happy. This here is their new flagship tablet with NVIDIA's Tegra 3 quad-core processor and a 1920 x 1200 resolution 1080p HD IPS screen and more. Is the low price of $449 for this powerful tablet enough to put it over the edge and into the limelight? Find out below!
First off you'll want to start with our hands-on and unboxing with Acer's latest tablet, as that will give you an idea of what to expect moving forward. Then check out the second video below and all of our screenshots and benchmark results too.
Hardware
Now hardware might not be one of Acer's strong points with some of their previous attempts at the tablet market like the A500, but with the A700 they've really stepped it up. The build quality has improved, the design saw some small but needed changes, and the hardware specs were improved too.
The A700 is their new flagship tablet and has all the top specs we've seen lately crammed into one sleek and budget friendly package. Speeding things along is the NVIDIA Tegra 3 quad-core processor, with 1GB of RAM and 32GB of internal storage and a micro-SD slot. As mentioned above the 10.1-inch display has a huge 1920 x 1200 full HD resolution and looks amazing — but more on that below, and the cameras are 5 megapixel on the rear and 1 MP on the front. The overall design is very similar to their other tablets with rounded edges and silver bezels, but the improved soft-touch rubbery matte finish around back is a welcomed addition if you ask me.
Brushed aluminum finishes are nice but I'm always afraid of it slipping from my hands. Then having a thin tablet is essential, but keeping the edges rounded adds comfort and makes longer usage easier. Acer hit the nail on the head with both of those aspects and I find this tablet actually very comfortable to use, even though the HD screen and huge 9,800 mAh battery adds a little extra weight.
The charging port shown above is micro-USB with a small edition, and it can only be charged using Acer's proprietary connector. It does however sync and mount USB storage using a standard micro-USB cable, which was neatly provided. Acer also threw a micro-USB to regular USB 2.0 adapter in the box for those in need. The ports and buttons are all well placed, and Acer added little rubber nubs to the volume rocker to make it easier to access and know when your finger is placed correctly. Oddly there are two nubs for volume down, and one for up — I thought it would be the other way around. The micro-HDMI and stereo speakers are both a nice touch. Sound quality is great and using hdmi-out to play the pre-installed real racing 2 was a blast.
Screen
Acer equipped the A700 with an impressive IPS display featuring a full 1080p HD resolution of 1920 x 1200. This results in a device with a 55% higher pixel density than what you have on your typical 10-incher. Just like the Transformer Pad Infinity, only the Acer is available today — not next month. The viewing angles are better than many I've used recently, colors are vivid, bright, and vibrant — and text is extremely crisp given the resolution. Everything looks clearer and is much easier on the eyes. I'm hoping more manufacturers take this route when building their tablets.
Software
Running on Android 4.0.4 Ice Cream Sandwich the A700 has the latest and greatest from team Google — although we expect Android 4.1 Jelly Bean to debut this week at Google I/O. Ice Cream Sandwich runs extremely smooth and fluid on the Acer. From the quad-core and the latest OS we had zero complaints about overall performance. The one area we did have an issue with was the lockscreen. Acer's added lockscreen shortcuts just like HTC did with Sense 3.6 and 4.0, and just like Samsung has done with the Galaxy S III. The only problem is it seems to not be very cooperative with us. Sometimes it would work, and other times it would completely glitch out which was frustrating — as shown below.
Acer A700 hands-on and Transformer Prime comparison
[vms c2fdec5796398de5f317]
Acer made a few small changes to the OS with the notification center being slightly redesigned and they changed up the notification power widgets. I love the options being right there at your fingertips for easy access. Then along with lockscreen shortcuts we have the homescreen shortcuts like other Acer tablets, all highly customizable as shown in the video above. These little changes helps differentiate them from the competition and are a nice touch.
As far as pre-installed apps we have a average amount of bloatware installed. Netflix, Monopoly (awesome) and Real Racing 2 are among a few I enjoyed. Then Acer added a file manager, video player and music player which all I feel aren't needed – especially with ICS video player and Google Music. Nicely however we have Polaris Office, Acer Print (cloud printing) Solitaire, Evernote, Google+, and McAfee virus scanner all out of the box. NVIDIA's Tegra Zone round outs the pre-installed apps as that will let you take advantage of the quad-core under the hood with NVIDIA's optimized Tegra Zone games.
Benchmarks
Benchmarks for the NVIDIA Tegra 3 quad-core "4-PLUS-1" processor were about as expected. Coming in just slightly lower than the Transformer Prime tablet in most tests, but then it also has a much lower resolution being the once standard 1280 x 800. We ran a quick Quadrant and AnTuTu to see the overall performance and they match our actual usage. Fast, stable, smooth, and easy to operate without a hitch or hiccup.
Camera
The Iconia Tab A700 has only a 5 megapixel camera on the rear, and it didn't impress that is for sure. They didn't include a flash, but then I don't really see the need for a rear camera on a tablet anyways so I can't dock em. If you're the type that wants a great camera on a tablet get the Transformer Prime. Video was capable of 720p but wasn't anything to write home about, and the actual 5 megapixel pictures were average at best too. Obviously this was one area they didn't focus too much on to keep cost down — and I'm not complaining.
A700 5-megapixel camera samples
Battery Life
So far I've been highly impressed with the A700's battery life. For pushing a powerful quad-core, and all those pixels it seems to be keeping up just great. Many Samsung tablets come with 7,500 mAh battery's but Acer tossed a massive 9,800 mAh battery under the hood for excellent battery life. I played about 5 hours of Monopoly (a few of which were output using HDMI-out to my HDTV.) I had about 7 hours of screen-on time and still had 27% battery life remaining. Stand-by also seems great using the Tegra 3's power management and brief usage over the weekend it easily lasted two days.
Wrap-Up
We've reviewed a lot of tablets and there isn't too much difference you can talk about. However the Acer A700 is a pretty solid and impressive device. It has the best display of any Android tablet thus far — except for the Transformer Pad Infinity that is coming next month. The Tegra 3 is one of the best on the block and nothing can compete with its performance in the world of Android.
If you are a gamer this is probably your best bet having a quad-core, 1080p HD screen, and HDMI-out for all your gaming needs. Coming in cheaper than the Infinity with Acer offering the 32GB model for just $449 this is a great buy. The Transformer TF300 offers very similar specs but a lower resolution price at a slightly lower $399 price point for their 32GB model. It really is a toss up with both tablets, but I'm preferring the HD screen and rounded edges of this A700. Acer has hit a perfect middle ground with specs and price with the Iconia A700 and makes the choice harder than I thought it would be with ASUS having a strong lead as of late.
Pick up the brand new Acer Iconia Tab A700 right now at a variety of outlets for $449 or from Acer's online shop.
[device id=2139]