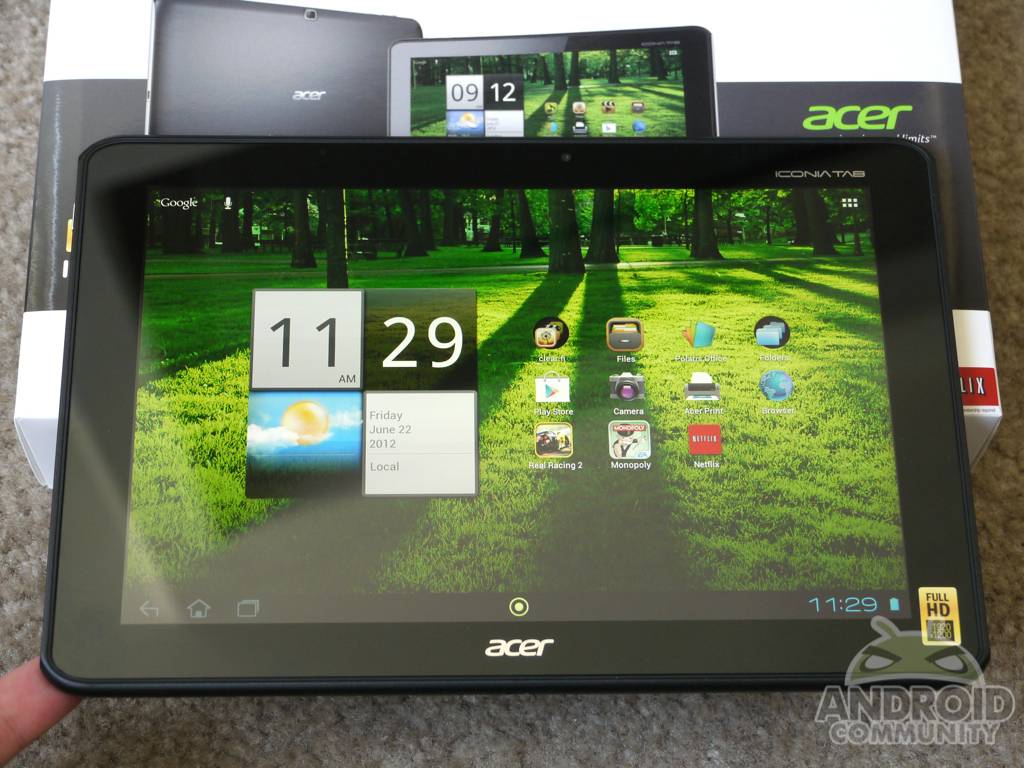 What do we have here? This my friends is the Acer Iconia Tab A700. This new tablet will be Acer's flagship device for the summer and has all the specs one should want in a tablet. Coming complete with a 1920 x 1200 Full 1080p HD display, Ice Cream Sandwich, and a quad-core NVIDIA Tegra 3 processor this should be a beast. Check out our initial impressions and hands-on below.
Acer's first few tablets weren't all that great, although were priced pretty awesome and had lots of fans. Earlier this year they released the A200 with ICS but this new slate is here to stay and reign king of their offerings. They've added all the specs you'd like into one powerful and somewhat sleek slate, and will be offering it for an impressive $449. You'll want to start off by enjoying my unboxing video below and then check out the rest of the photos in the gallery near the end.
Acer Iconia Tab A700 unboxing
Acer has outfitted this tablet with some pretty impressive specifications that should keep it near the top. Being the first Android tablet to actually be available with a 1920 x 1200 HD screen we'll focus heavily on that in our full review. As mentioned above this tablet has a 10.1-inch 1920 x 1200 full 1080p HD screen, the NVIDIA Tegra 3 quad-core processor, 1GB of RAM, 32GB of internal storage, micro-SD slot, micro-HDMI out, and a pair of cameras.
Around back is the 5 megapixel camera capable of 720p video, and they've added a measly 1 MP camera to the front for video chat and self portraits. Another exciting aspect of the slate aside from the specs is it comes out of the box running on the absolute latest Android 4.0.4 Ice Cream Sandwich build, so it's as up to date as it can be — for now.
My initial impressions are more favorable than I thought they'd be. The build quality is steadily improved over the A500, and the soft coated matte back and rubber feel is extremely comfortable in the hands. The rounded edges make it more ergonomic than other tablets too. Acer has done a few of their usual changes to the Android OS, as well as added new and cool features like their lockscreen. Just like others with custom lockscreen options, theirs are colorful, inviting, and even have a little animation. Right away I see a few quirks, as well as some awesome ideas and changes so you'll want to stay tuned for the full review coming up soon. Can this quad-core tablet compete with the best? For the price I think it can. Buy one today from Acer.com
[device id=2139]