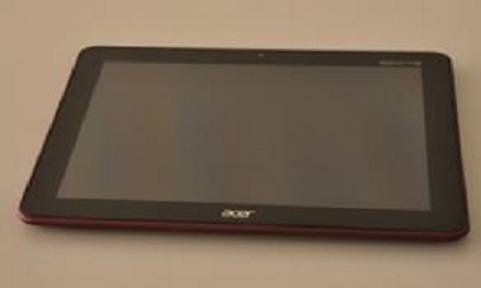 Last week we spotted some information and a photo regarding this mystery tablet from Acer being called the A200. Today we've learned a few more details as its nicely made a quick pit stop at the FCC. We can confirm that this will be a 10″ tablet and from the images it appears to be quite thin too.
Currently Acer offers the Iconia A500 10″ tablet and the smaller A100 7″ variant so we were expecting this to many fall in the middle, but after digging through the FCC filing this clearly will be a 10″ Android tablet and possibly around 7-8mm thin. That could make this one of the thinnest tablets around, and that would be a big improvement over the first series from Acer.
No other details are known at this point, and the FCC has been tight lipped. Obviously this will pack some sort of dual-core processor or possibly even a quad-core. We are expecting Android 3.2 Honeycomb on this device but if it ships later this year there is a good chance we'll see 4.0 Ice Cream Sandwich instead. I'd be happy with either but would love some ICS. Acer has used the NVIDIA Tegra 2 in the past so there is a decent chance we'll see the quad-core Tegra 3 in this once it ships. We should be hearing more soon now it has cleared the FCC.
[via Wireless Goodness]