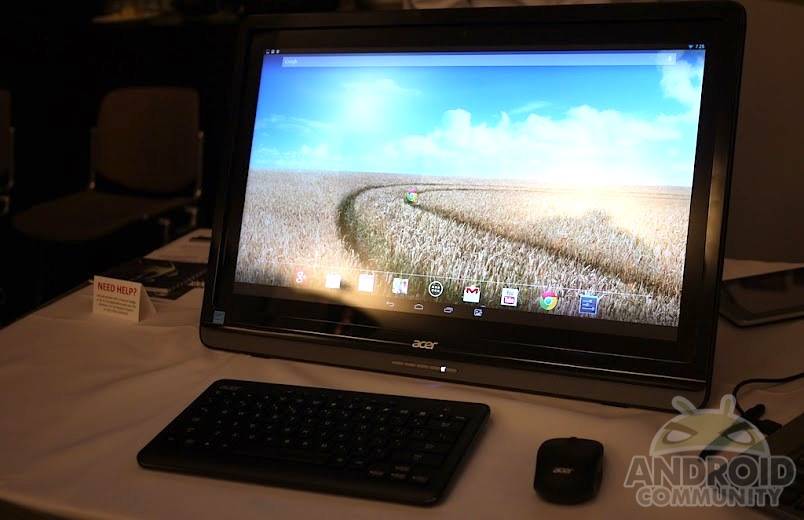 Now that Acer has announced and shown off a few new smartphones and tablets this year at IFA, how about a 24-inch desktop PC running Android 4.2 Jelly Bean? Well, that's exactly what we have with the brand new Acer DA241HL All-in-one PC, which they announced earlier this week. Below check out a few pictures of this ridiculous tablet that doubles as a PC monitor.
Acer announced a similar AIO PC earlier this year at CES, but this time around the DA241HL has been improved in a few key areas. Those being Android 4.2 Jelly Bean, and the quad-core NVIDIA Tegra 3 processor under the hood. If you want to play Temple Run 2 or Asphalt 8: Airborne all on a glossy 24-inch tablet, this is how you'll be able to.
We're not exactly sure what to think of it initially, but after a few minutes with the keyboard and mouse (included) on the stock vanilla version of Android it was running, we were a little curious and were already thinking of the possibilities. Aside from having a few buttons for controls on the bottom, all the ports are around back. Things like three USB ports, micro-USB, micro-SD, HDMI and more.
Along with being a complete all-in-one PC, the HDMI input allows it to be a second display. Whether that's for a regular Windows 7 or 8 PC, or another device should you choose. But, you won't have to do that because you'll be enjoying a rather speedy version of Android thanks to the Tegra 3 processor. Games (and THD) games worked quite well, and they had a few for us to test. Overall performance was quite smooth, but the build quality wasn't anything to write home about.
The keyboard and mouse usage was decent, on par with others, and of course you can go back to regular touch controls should you choose. Swiping through menus was a bit more tiring with a massive screen, but surely some of you would like it. It's set to hit Europe sometime in October for around €429 for the base unit, then they'll have a few upgradable options like storage for those interested.