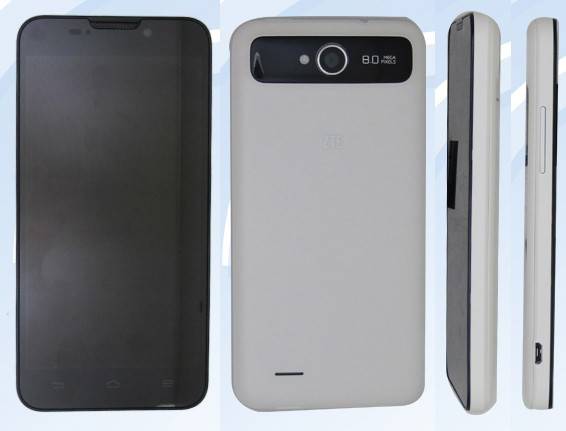 The folks from ZTE have been hitting the 5-inch form factor quite hard as of late. After just recently announcing their new flagship ZTE Grand S 5-inch 1080p smartphone, we're now seeing a similarly designed budget device that is set to dominate the Chinese markets. It's called the ZTE V987 and we have additional details after the break.
What you see above is their new 5-inch 720p "budget" aimed V987 smartphone, although that name will surely be changing by the time a release date flows around. According to Engadget this phone is extremely similar to the popular Grand S, only all the specs have seen a slight chop to help hit a lower price point.
ZTE opted for an unknown 1.2 GHz quad-core instead of the 1.5 Snapdragon S4 Pro in the Grand S. They've also lowered the camera down to 8 megapixels from 13. Then of course that 5-inch screen will enjoy a 1280 x 720p HD resolution, and not a full 1080p spec. Either way it should still look pretty decent, but we'll have to wait and see.
According to the database information the new ZTE V987 is running Android 4.1.2 Jelly Bean, and as you see they have the standard ICS and JB key layout only they are still capacitive touch buttons. The new phone is also slightly thicker than most from ZTE as of late, but it offers a removable 2,500 mAh battery for better battery life. While most of ZTE's phones won't make it stateside, we're being told this budget device will be available in more regions than just China. Stay tuned for more details.
[via Phandroid]