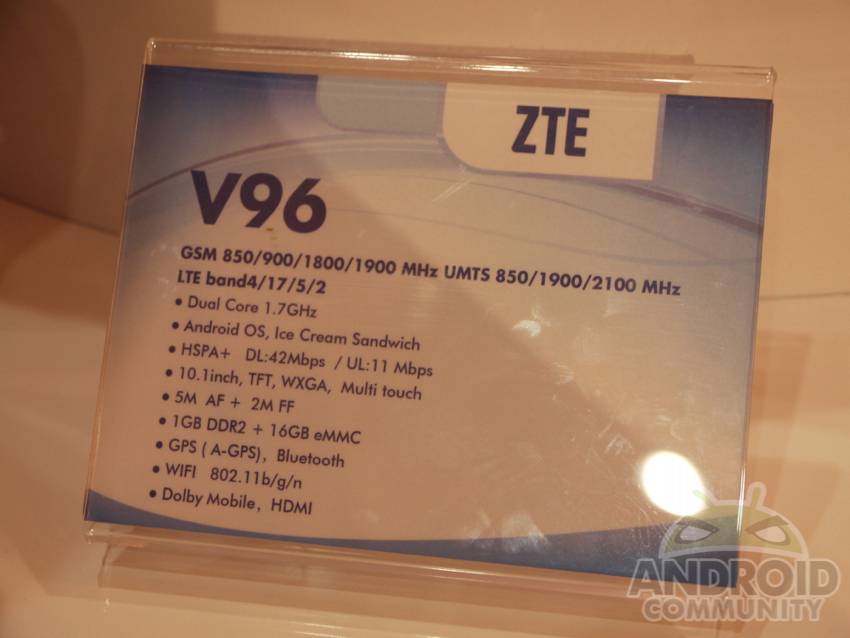 The folks from ZTE have a new tablet on the horizon. It was first announced back in February during Mobile World Congress in Barcelona, but today here at CTIA 2012 they had it out and available for us to get our hands on it. This 10-inch Android 4.0 Ice Cream Sandwich tablet comes with a 1.7 GHz dual-core Qualcomm processor. More details and video after the break.
Coming with the standard 10-inch 1280 x 800 display the ZTE V96 offers an untouched, stock version of Android 4.0 Ice Cream Sandwich, and a decent 5 megapixel camera around back. The interesting feature is the processor under the hood. Being equipped with a Qualcomm 1.7GHz MSM8960 dual-core S4 Krait processor with 1GB of RAM, 16GB of internal storage, and a micro-SD for expanded storage. Another thing here is the tri-band HSPA+ and full quad-band 4G LTE radios on board.
This tablet actually felt quite nice in the hand and had decent build quality too, although not quite up to ASUS or Samsung's level. The specs are impressive, the build quality is nice, and the potential for 4G LTE makes this a pretty great tablet. That quad-band LTE could also potentially run on AT&T here in the US too.
The tablet didn't have any unique features and Ice Cream Sandwich was completely stock, but I consider that a good thing. If that faster 1.7 GHz dual-core processor interests you you'll want to stay tuned for more details from ZTE. Hit our CTIA 2012 Portal for more coverage live from New Orleans!