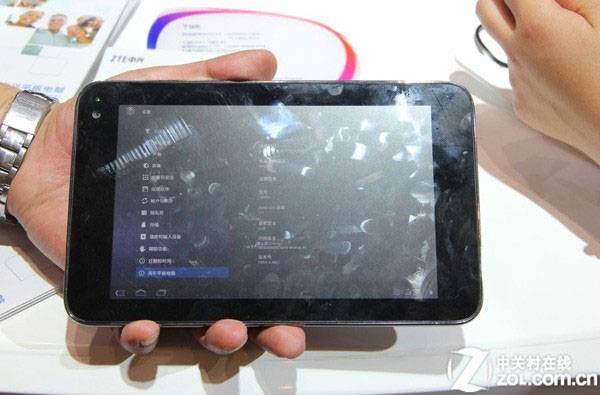 Typically, if a smartphone or tablet is running Tegra under the hood, it's the Tegra 2 flavor that we have all seen before. A new tablet has turned up in China called the ZTE T98 and it runs Tegra of a different flavor in the form of a Tegra 3 chip under the hood. The tablet is small with a 7-inch screen and a thin 11.5mm profile.
That makes the tablet not much thicker than most smartphones. The tablet has a 7-inch 1280 x 800 resolution WXGA resolution screen. The screen has glare and catches fingerprints as you can see in the screen. Most devices with touchscreens do the same thing. Internal storage for the device is 16GB and it has 1GB of RAM. Engadget China reports that the tablet has support for GSM900/1800 and TD1900/2010 networks
There is no mention of a SD card slot on the table. The rear camera is a 5MP unit that can record 1080p video and the front camera is a 2MP unit. The battery is rated for 4000mAh, which makes me wonder about runtime. The newer tablets in this size range tend to have larger battery packs like the Galaxy Tab 7.7 with its 5100mAh battery. Perhaps it's that the Tegra 3 is just that much more power efficient. The launch date for the tablet is unknown and it will hit Hong Kong and china first.
[via SlashGear]