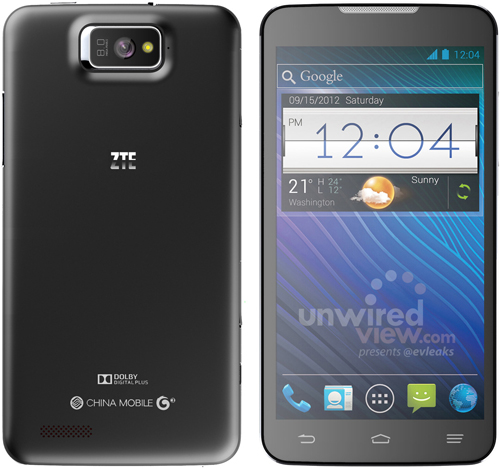 ZTE has been a fairly talked about name lately. We have seen the Z5 which was announced late in December and the Grand S which is going to be unveiled during CES. Both of these devices have a 5-inch display, however it looks like ZTE is getting ready to push things a little larger — straight into phablet territory.
This latest leak comes by way of the @evleaks Twitter account which this time around, contains an image showing the front and back of the handset along with a few details. You can see the handset in the image below, and for those wondering, that display is said to measure in at 5.7-inches. Also pointed out in the image, the 8 megapixel rear-facing camera and Dolby Digital Plus.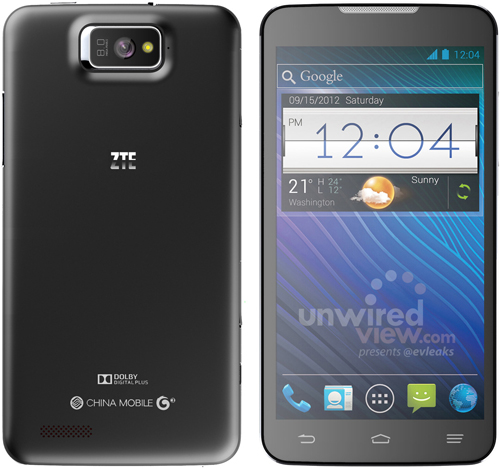 We also cannot miss that China Mobile logo, which sort of implies where this device is headed. Or at the very least, one of the carriers that will end up offer this handset. That said, so far we have yet to learn any sort of device name. Well, aside from the model number which is P945. Other details include the ZTE P945 as having a thickness of less than 9mm, a 3000 mAh battery and a quad-core 1.2GHz processor.
In terms of Android, the leak notes the P945 as having "ICS or above." We can only hope that actually means Jelly Bean. As a comparison, the recently announced Z5 is running Android 4.1.1 Jelly Bean, so at least we know that ZTE is not dealing only with Ice Cream Sandwich. Finally, rumor has it that the handset will land in China during the first or second quarter of the year. And so far, nothing as to a global release timeframe.
[via unwired view]