ZTE recently introduced a new flagship phone in the form of the ZTE Star 2. This 4G LTE smartphone is voice-controlled, made possible by the Chinese manufacturer's very own biometrics voice integration strategy. The ZTE Star 2 features a brand new user interface that is customizable, better mobile entertainment experience, and a smart system-level voice control. This phone is a follow-up to the very successful ZTE Star 1 smartphone launched by the company last year.
The ZTE Star 2 features the latest biometrics voice integration technology that promises to bring superior voice control functions. This unit includes about a thousand of patents. Included are 158 patents related to voice control which means its voice technology is more advanced. It integrates RCS voice messaging and call features for a more advanced voice experience within the RCS service of China Mobile.
With ZTE's smarter voice control, the Star 2 gets a functional first system-level voice and speech recognition solution. It works even if mobile device is not connected to the Internet and is offline. ZTE takes pride in its 90% success rate and 1.2 seconds of response rate even in noisy conditions. Some of the voice control functions include playing music, opening 3rd party apps, making phone calls, and unlocking device with a simple but unique voice tone. For entertainment and business purposes, the real-time voice-to-text input can be very useful.
Here are some more features of the new ZTE Star 2:
•enhanced driving mode for a more convenient and safer hands-free driving experience
•voice control functions (music control, automatic GPS navigation, message replying, and call answering)
•motion sensing features
•customizable UI MiFavor 3.0
•customizable/pre-defined color schemes
Specs of the ZTE Star 2 include a a 5-inch dual-layer Gorilla Glass 3 screen, 13 megapixel rear camera, f/2.0 aperture, dual LED flash, 5MP front camera, 88° ultra-wide-angle lens, 2.3GHz quad-core Qualcomm Snapdragon 801 processor, 16GB ROM, 2GB RAM internal memory, and a 2300mAH battery.
ZTE Star 2 is already available in China for 2499 RMB which is about $400. ZTE will show off more mobile devices in Las Vegas at the CES 2015 next month.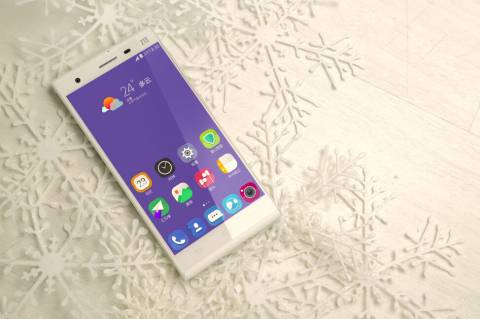 SOURCE: ZTE