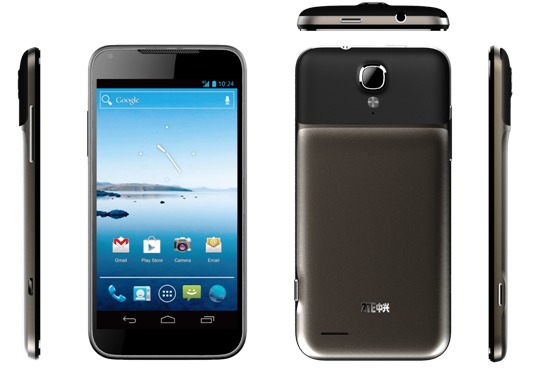 ZTE today revealed its first dual-mode LTE smartphone in Hong Kong, the ZTE Grand Era LTE. This phone is billed to be part of the launch of China Mobile Hong Kong's first commercial converged TD-LTE / LTE FDD network, so it should end up being a pretty big deal over there. While dual-LTE is undoubtedly going to be the star of this show, there are some pretty solid specs to boost that functionality up.
With the ZTE Grand Era LTE, you'll have a dual-core processor clocked at 1.5GHz running the show, along with 1GB of RAM. The 4.5-inch multitouch screen is covered in Corning Gorilla Glass to make sure it stands up to some abuse and is displaying at 1280×720, so you've got a phone with a HD display here. It'll also be running Android 4.0 Ice Cream Sandwich out of the box, but that will be partially hidden away behind ZTE's Mifavor User Interface, which hasn't been officially revealed yet.
To hop on Hong Kong's new network, the ZTE Grand Era LTE will benefit from the company's new FDD/TDD dual-mode MF93E uFi device and MF825 data card. Both the device and the data card have enjoyed a nearly 33% decrease in size and power consumption, which has the added bonus of making them both faster and smaller.
That doesn't sound bad at all, but don't expect to see it hit North American shores anytime soon. In any case, it's pretty neat that ZTE is planning to launch a dual-LTE phone to support China Mobile Hong Kong's new converged network, so this phone might just take off as the LTE craze continues to spread. This definitely isn't the last time we'll be hearing about the ZTE Grand Era LTE, so keep it here at Android Community for more.
[via SlashGear]