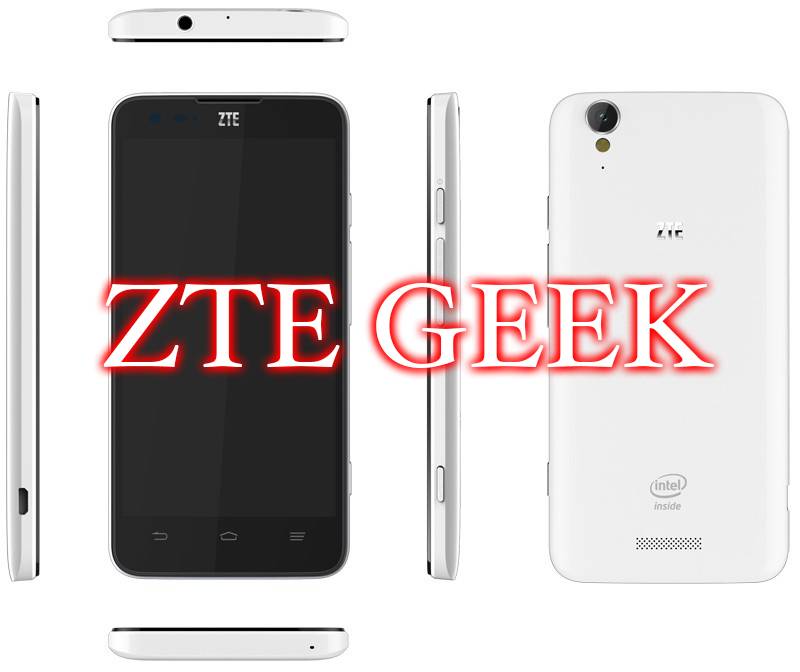 ZTE has officially announced the GEEK smartphone. The handset was introduced during the Intel Developer Forum in Beijing, China. The key bit of detail here, this marks the first ZTE handset with Intel's new 32nm Atom processor Z2580. Otherwise, aside from a name that we are enjoying, the handset has some average specs. By that, we mean some of the specs are half of what we are seeing on other current flagships.
Just to begin with though, the ZTE GEEK has launched with a 5-inch 1280 x 720 display, 1GB of RAM and 8GB of internal storage. See what we mean about the specs — we would have hoped to see 1080p along with 2GB of RAM and 16GB of storage. Moving on, the GEEK also has a 1 megapixel front-facing camera and 8 megapixel rear-facing camera.
Other goodies include a 2300 mAh battery and Android 4.2 Jelly Bean. Touching back on that processor, it clocks in at 2.0GHz and according to ZTE, it should be twice as fast for computing and three times as fast for graphics as compared to Clover Trail+. There was also mention of reduced power consumption (again, as compared to Clover Trail+).
ZTE considers the launch of the GEEK smartphone to be a continuation of their earlier strategy of bringing more high-end products to market. And well, while we are not going to see many of these ZTE releases here in the US, we do think they are beginning to do some interesting things. For that, make sure to check out the Story Timeline below for a bit more of our recent ZTE coverage.