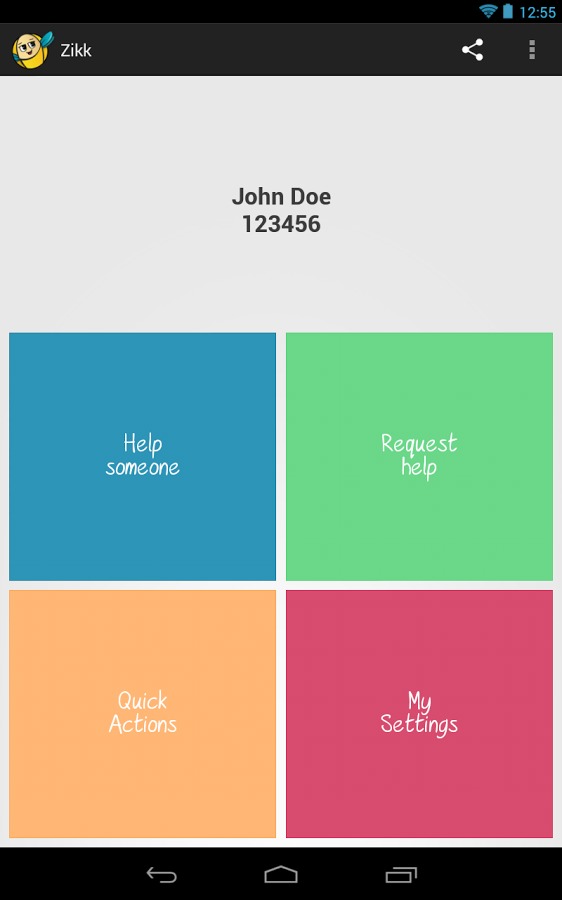 Many of us have probably experienced playing tech support for friends or family at one point or another. While navigating through our own devices is easy, trying to get someone who is miles away to follow instructions is no walk in the park. Enter Zikk, who will either make your life as the tech go to guy simpler or even busier.
Zikk is both a service and a free Android app. Both the helper and the one being helped must naturally have the app installed on both their devices. On first run, they will be asked for a name that will be used to uniquely identify them. Users will then be provided with a unique number key that will be used in connecting with another Kizz user. Once this initial registration is done, any user can ask or offer help to others.
Establishing a connection with another user involves entering his or her name and key and waiting for authorization. The app gives the helper access to a wide variety of settings, including downloading and uninstalling free apps, setting up network connections, managing sound notifications, creating reminders and contacts, and even setting up wallpapers. The changes are not applied in real time. The helper must first ask the other end to approve the changes and, once accepted, the changes are all applied at once. Here is a video demonstrating how the whole thing works.
Zikk is on Google Play Store and is available for free for both the app and the service. While it does make helping out family and friends a lot easier, it could actually increase the amount of help requests you get when they see how effortless it will be for them.
Download: Zikk Remote Android Setup on Google Play Store
VIA: Lifehacker