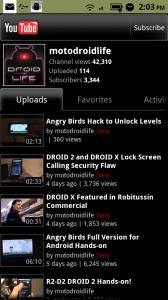 We had heard grumblings through the last couple of months that the official YouTube application would be finding its way into the Android Market some time before the end of 2010. And, sure enough, it's just become available for your downloading pleasure.
But, just having it in the Market isn't good enough. The app has been given a pretty significant aesthetic upgrade. There's also been a few features added to the mix, too. You'll be able to watch videos not only in horizontal mode, but also portrait. The overall search function of the application is a lot easier. You'll be able to view more channel information. Overall, the application makes it feel like you're on the desktop Browser.
You can find the YouTube application the Market right now.
[via Droid-Life]