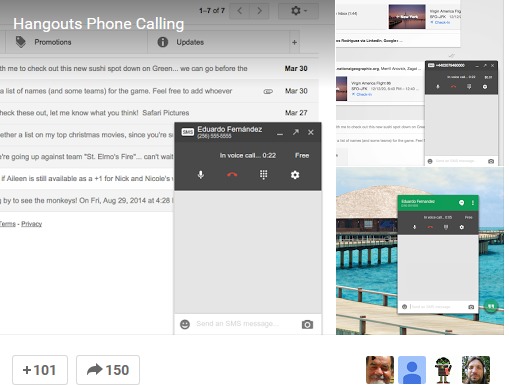 If you're not satisfied with just chatting with colleagues or friends over Hangouts and have been dependent on making voice calls through the app and/or desktop, chances are you've noticed that it's not as fast as it should be. Don't worry, it's not just your carrier's fault, but it's the connection speed within some of Google's apps like Gmail and Inbox where you can also make the voice calls. But a new update to the apps and to the desktop will solve that problem and allow you to make faster calls.
There is usually a few seconds lag when you answer incoming Google Voice calls, which can be a hassle sometimes, especially if it's regarding work. But the update will supposedly take care of that as well. The speed of placing the calls and connecting to the recipient will now become faster, whether you're making the call through the email apps, or through the Hangouts app or the Hangouts Chrome extension as well.
Google product manager Mark Chang also shared some shortcut tips when you want to make a voice call through Gmail. Simply click on the phone icon which can be found on both desktop and mobile versions, and from there you can make the call. Or you can search for the phone number in the Hangouts app or desktop. The Hangouts Chrome app can also make calls if you'd like to do it from your desktop while you're working on something.
The update will be rolling out into the apps and the desktop as well in the next few days. And if you haven't tried calling through Google Voice yet, now is the time to try it out, when they're supposedly faster already.
SOURCE: +Mark Chang