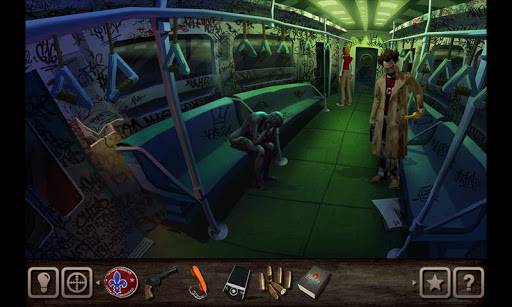 Point and click adventure games are somewhat rare these days, but lately we've been seeing something a of resurgence. Double Fine hit it big when it put the Double Fine Adventure up on Kickstarter, and earlier this year, a game by the name of Yesterday caught a lot of attention from the PC gaming crowd. For whatever reason, the excitement over Yesterday seemed to die down shortly after launch, but if you missed out on it the first time around, you might be happy to know that it's available on the Google Play Store starting today.
Without spoiling too terribly much, here's a quick run down of the story: someone is murdering homeless people in New York, and since no one with any authority cares, it's up to three people to get to the bottom of it. All three characters – Henry White, his friend Cooper, and John Yesterday – are playable in the game, with Yesterday suffering from a pretty bad case of amnesia. The mystery surrounding John Yesterday is a major part of the story too, so there's plenty to figure out in this game.
To give you an idea of how it fared with critics, Metacritic gives the PC version an aggregate score of 65 out of 100, which is considered "mixed or average reviews." In other words, some loved it, a few didn't like it, but more just gave it average marks. In any case, since adventure games aren't given much of a chance to shine here in 2012, we have a feeling that adventure fans will take what they can get.
The idea of an adventure game on tablets is an intriguing one indeed, as it seems that the larger screens of tablets would lend to the main mechanics of point and click adventure titles. If you're looking to download it from the Google Play Store [download link], you'll need to be running Android 2.2 or higher and plop down $4.99, though there is a free trial you can test out before you commit to buying it. Are you going to pick up Yesterday?