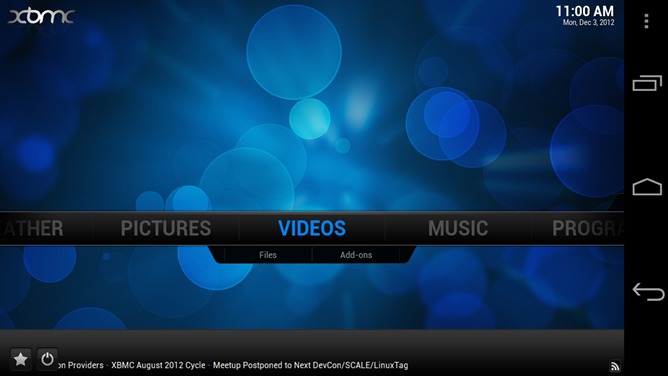 The folks at XBMC have just released their official version 12 beta 2 complete with Android support. Back in July we first learned that the popular XBMC was coming to Android, but now it's here with no compiling or tweaking required. This awesome open source media player will bring tons to Android now that it's officially available instead of users just tweaking it to run on Android. More details below.
XBMC is like the ultimate cross platform media streamer with support for now basically all different kinds of operating systems, multiple file types, remote controls, and it will make media streaming even easier for Android phones and tablets. Sadly the team did mention they won't support NEON devices, that list can be found here.
That isn't much of a concern, because almost all new phones and tablets will be supported from here on out and support will only improve and get better, as will the application. Getting official Android support is a big deal, and something I'm excited to toy with as things progress.
We'll now be able to enjoy our Android devices along with our home theater like never before. Currently the beta v2 available now doesn't support Android 4.2 Jelly Bean, but the 3rd beta is days away and will fix a few problems and support the latest version of Jelly Bean. Again, this is still a beta, so don't expect things to be perfect. More details can be found by clicking here.
[via Android Police]