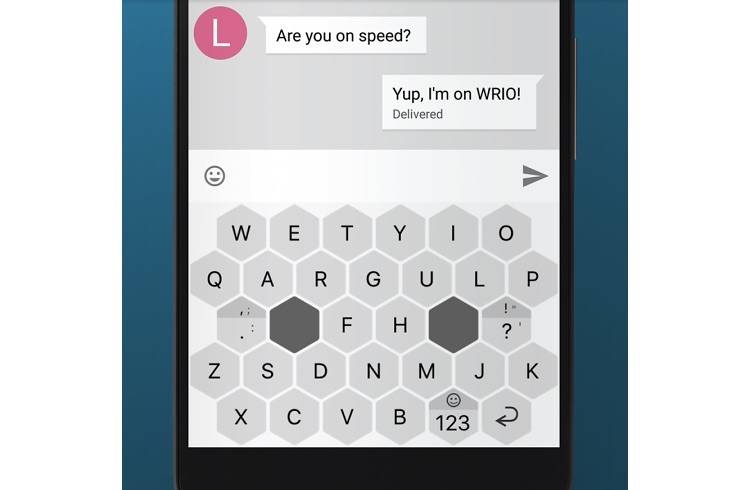 Virtual keyboard apps have become very useful these days. Thanks to the likes of Fleksy and SwiftKey for changing the on-screen keyboard game. There are dozens of more similar apps but only a few are worthy of our attention including the WRIO Keyboard +Emoji developed by icoaching. The app aims to allow any mobile user faster typing and without any error.
Is error-free typing possible? Yes, if you have small fingers or if you use WRIO's honeycomb layout and large keys. It's not enough that you are a fast typer. The size of the keys matter. Obviously, the bigger the keys are, the less prone you are to mistakes. It's that simple. The keyboard's dynamic layout also remembers the way you type and use the app and will make optimizations depending on one's needs and use.
WRIO offers a new typing experience especially with new intelligent gestures like swiping left to delete a character, swipe right to restore if you deleted a lot, or swipe up to capitalize a letter. Words requiring diacritics (marks) can be chosen by long-pressing on a character. Those diacritical marks are important especially when you're using a different language.
Keyboard's layout is still based on QWERTY so you won't have a difficulty learning it. App can be set in your language or up to five max so you don't have to switch every time. There's also an auto-correction feature that learns your lingo and corrects your the words you type if you make a mistake. It also remembers what you've typed in the past so it can give possible suggestions.
Expressing one's emotions is also easy and way more fun with emoji. Just choose from any of the popular round smileys and colorful emojis to express how you're feeling right now and then send. It's simpler yet more expressive that way. You can also personalize the colors of the keyboard depending on your style and preference. Make the app truly yours by doing a few customizations.
Here are the languages supported by WRIO Keyboard: English (US, UK, AUS, CAN), Afrikaans
, Albanian
, Catalan
, Czech
, Danish
, Dutch
, Estonian
, Finnish
, French (France, Canada, Switzerland)
, German
, Hungarian, Icelandic
, Italian
, Latvian
, Lithuanian
, Norwegian
, Polish
, Portuguese
, Romanian
, Slovak
, Slovenian
, Spanish
, Swedish
, and Swiss German. Keyboard also supports most versions of Android starting with Jelly Bean 4.2.
Download WRIO from the Google Play Store