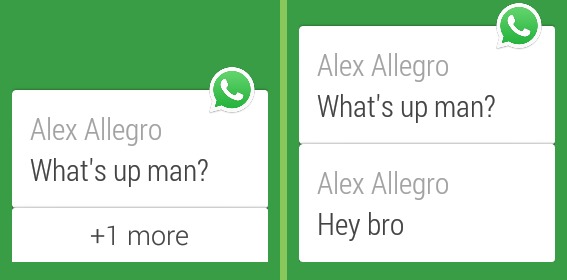 As Android Wear continues to grow in popularity in the wearables market, more and more apps have been releasing updates to support this platform. WhatsApp, one of the most popular messaging apps in the world, has released a beta update where you can do more than just view their notifications on your smartwatch, giving you the ability to read and even respond to messages.
The update now allows you to see stacked notifications if your WhatsApp is a hive of messaging activity. You can view the stacked messages on your Samsung Gear Live or your LG G Watch by clicking on the "+1 more " button (not to be confused with Google Plus' +1). And instead of just getting a notification that you've received a message, the update now allows you to take a sneak peek at it with a complete preview, so you have an idea whether or not you should ignore the message.
But more than just reading your WhatsApp messages, you can even now reply to them by talking to your wrist. The update now includes the ability to dictate your reply to the messages through voice support. Now the only challenge there is to actually get the app to understand you and not send a wrong message to the person you're chatting with. Since there are some virtual keyboard apps for Android Wear as well, maybe later on WhatsApp will also allow you to respond through typing.
The latest version of WhatsApp, version 2.11.318, hasn't been uploaded yet to the Google Play Store. But you can already download the beta version (although technically, it isn't actually beta) from WhatsApp's official website.
VIA: 9 to 5 Google