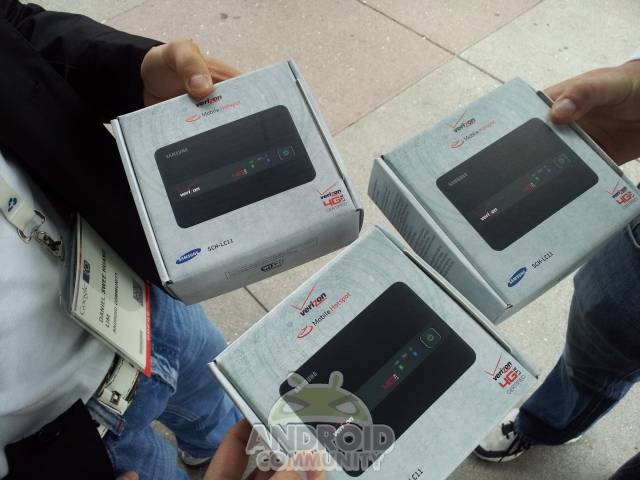 Yesterday at Google I/O, everyone was handed a blue card which was good for a free Verizon Mobile Hotspot and a SIM card, and gave three months of complimentary service from Verizon. At the time, conference goers were told that they could pick up the gear Wednesday afternoon. This morning at the keynote, Vic Gundotra let us all know that the blue card went with a 4G LTE mobile hotspot. So, here we are on Wednesday afternoon, and guess what?


Here we are, with our very own Samsung Mobile Hotspot from Verizon, with 3 months of 4G LTE for free. Awesome! Vic Gundotra said this morning that this hotspot will provide blazing fast speeds of 20Mbps upload and 10Mpbs download. He let us know not to expect that at the conference, he was only able to get 7Mbps up himself.
We'll let you know our speeds when we try this out shortly. Will there be some kind of competitive unboxing coming up? You'll just have to wait and see. Speaking of unboxing, did you catch Vic Gundotra's exclusive unboxing of the Galaxy 10.1 yesterday?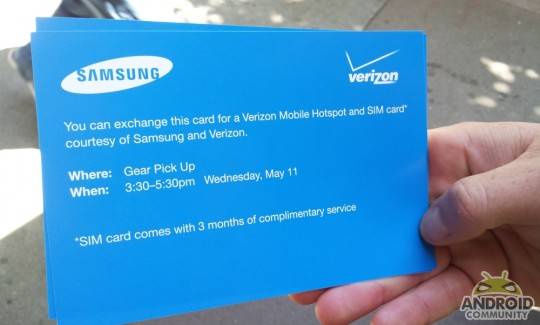 So far, the gear given away at Google I/O includes a Samsung 10.1 inch Galaxy tab, a Samsung mobile hotspot, and a Samsung Chromebook (which we'll get in June). See all of our mega Google I/O coverage here.
Look for more details about all of this coming very soon.