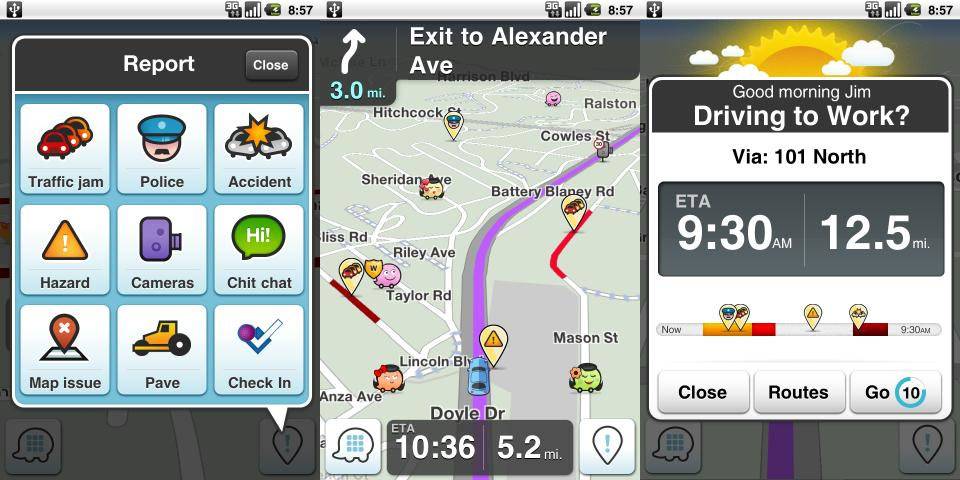 There are three universal forces that can never be resisted: death, taxes, and the 5:30 weekday traffic in Atlanta. Waze has been resisting the latter with its community-powered traffic system, which gathers data from thousands of active users to create a live map of the worst traffic in any given city – and how to avoid it. The popular app updates today with version 3.0, bringing in an overhauled interface and new integration with social services. The app is still free, and you can download Waze in the Android Market.
In addition to the standard GPS-based navigation and traffic streamlining system, Waze now includes APIs for Foursquare and Yelp. This isn't for updates for your friends ("Michael is still suck on I-20") but rather a searchable database of restaurants and other attractions. Regular Android users will recognize this as yet another feature "borrowed" from the built-in Google Maps application, namely the "Places" feature. But while Places only includes information from reviews on Google Maps, Waze now has access to the much more rich database of Yelp reviews and active participants via Foursquare. Of course, once you reach a location you can review it or check in.
The user interface adjustments are notable as well. Waze points out the at the new active map GUI has only two large buttons, the better to safely use while behind the wheel. Bigger, more readable fonts and integration with Android's voice-control functions enhance safety and usability. Users can quickly report road issues or speed traps with just two taps, and the social gaming elements that put Waze on the map (so to speak) remain intact.