XEETECHCARE has done a number of Battery Drain Tests last year and he actually ended 2017 with yet another Ultimate Test that starred the latest premium flagship phones namely the Razer Phone, Apple iPhone X, Samsung Galaxy Note 8, OnePlus 5T, LG V30, Google Pixel 2 XL, and the slightly old Samsung Galaxy S8+. Of the seven models, the oldest is the Galaxy S8+ which was released in April.
Watch the Battery Drain Championship of the World video below:
All phones are set with 100% battery and 100% screen brightness. As with the previous battery drain tests, the phones were used in six levels: one hour of music, one hour of Instagram, one hour of Facebook, one hour of Youtube, one hour of gaming, and camera usage until death. The smartphones are connected to the same WiFi network. There's no SIM card installed.
After the first hour of music playback, here are the results:
• Razer Phone – 90%
• Note 8 and Pixel 2- 91%
• iPhone X – 85%
• OnePlus 5T – 92%
• LG V30 – 95%
• Samsung Galaxy S8+ – 92%
The clear winner in the first round was the LG V30 while the iPhone X was the sore loser. This continued on in each level and it actually won the test with 3% left while the rest were already dead.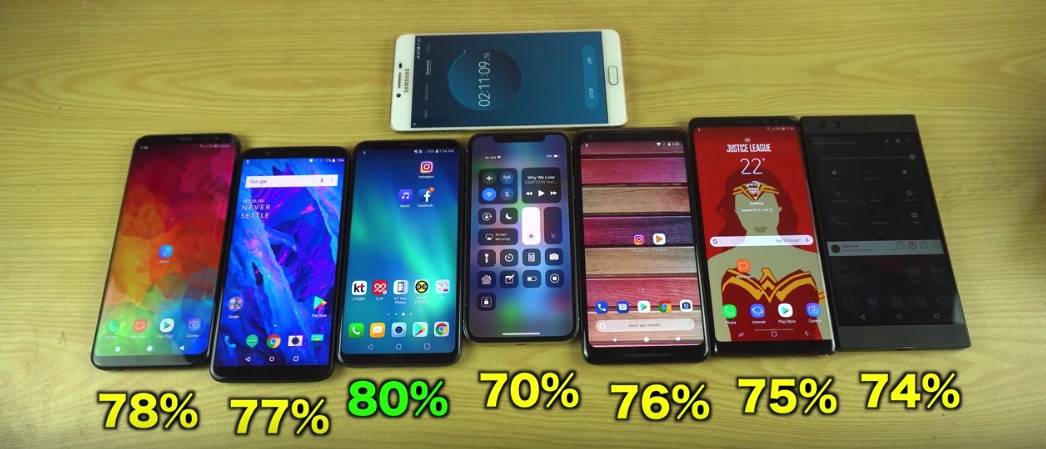 Can we say the LG V30 has the most powerful battery among the latest flagships? You bet, at least, according to this test.
SOURCE: XEETECHCARE