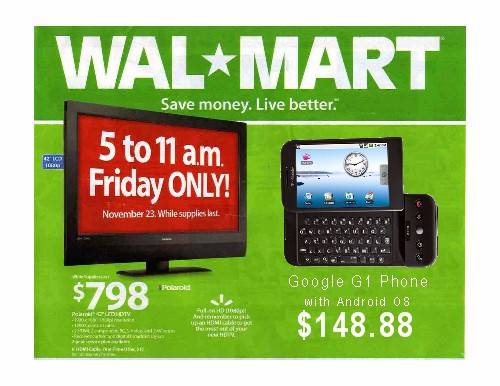 Somewhat believable rumors about Wal-Mart are flying around again, this one is about the arrival of the G1 at a cheaper price. The top ten Wal-Mart locations in each market will be getting the T-Mobile G1 on the 24th of November just in time for Christmas.
It comes as no surprise because big box stores such as Costco are already selling the G1 in many of their stores. Wireless sales in these stores have proven to be a good market for these companies. It is no doubt that Wal-Mart, who boasts low prices, will offer some sort of discount on the device, luring customers to their stores rather than the T-mobile retail locations. Rumors say that the price will be $148.88 with activation and a two-year contract.
For many the $31 dollar discount is not worth waiting a month to get this phone. Those who are interested in the G1 are more likely to want it sooner rather than later. The price will help with Christmas shopping this year for those effected by our economy. With so many T-Mobile stores outside of the 3G area, T-Mobile is wise to be allowing the overflow of G1 handsets to be sold in other stores as well bringing the market to those who would have otherwise missed.
Photo courtesy of Android Community member heyitsnan.
[Via EngadgetMobile]