If you're very much excited to finally receive your pre-ordered 128GB Google Pixel XL, you might want to temper your expectations. Some users have apparently received notification from Verizon, the only carrier selling the devices in the US, that the supposed shipment of the smartphone has been delayed by more than two weeks. This is apparently due to the high demand for the first phone that has been solely designed by Google, that they haven't been able to fix their inventory.
The email sent by Verizon even had the subject heading of "Looks like you have great taste" and if you received it you probably would have been excited that the phone was on its way. Unfortunately, it was just to soften the blow that there will be a delay of more than two weeks for the delivery. The one who shared the email was supposed to have his Google Pixel XL shipped today but instead it will ship out by November 26.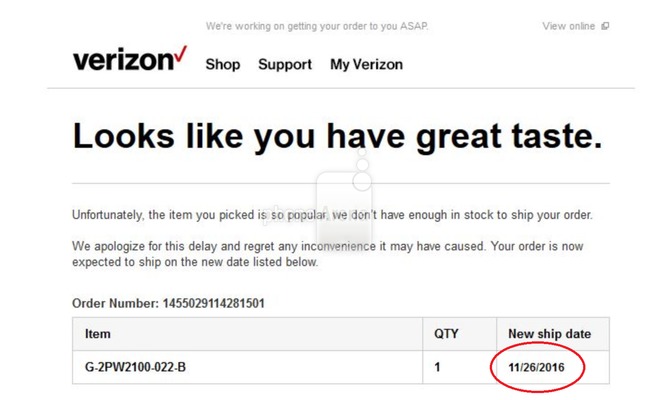 The only explanation that they gave is that "the item you picked is so popular" that they are unable to serve your order, despite the fact that you pre-ordered it already. They did apologize for the inconvenience, but of course it's the standard thing to do. Hopefully, those who were expecting the phones this week don't urgently need it, otherwise, that is a sure bummer.
While Verizon is the exclusive carrier for the Google Pixel smartphones, you can actually use it with other carriers as well. In fact, T-Mobile has a promo now that they will give you 50% back of the cost of a Google Pixel, the 32GB variant to be exact, if you activate it with the un-carrier. It costs $325 so getting half of it back is not that bad.
VIA: Phone Arena