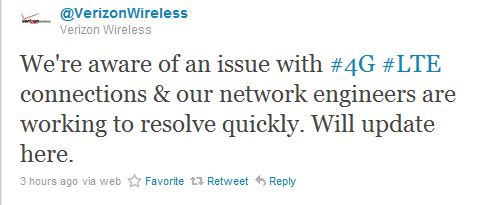 Verizon's 4G LTE Network is down nationwide, forcing those with an HTC Thunderbolt or a 4G hotspot to suffer along with near dial-up speeds. According to Verizon's twitter feed, the Thunderbolt is able to do voice calls, but data is running at 1xRTT data. The outage comes just one day before the DROID Charge, Verizon's second 4G phone, hits the network. Verizon has said they are hard at work to fix the problem. Verizon's 4G network went down late last night, and though it doesn't affect 3G devices, the Thunderbolt has been booted down to extremely slow speeds. There is a fix, however, that will allow the Thunderbolt to get back up to 3G at least.


Verizon Wireless has posted two updates on Twitter so far: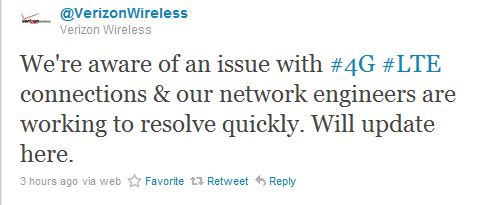 Others on Twitter have said that they have lost timezone settings on their Thunderbolts.
Here is the fix to get the Thunderbolt up to 3G:
How to Fix 4G Outage on HTC Thunderbolt
Dial ##778#
Press Call button
The password is 000000
Choose Edit Mode
Go to Modem Settings
Choose Rev A
Switch from eHRPD to Enable
Press OK
Commit Modifications
Keep in mind you'll likely need to change this back to get your phone back to normal after the nationwide Verizon 4G LTE outage is fixed.
Here is a video that shows the speeds that are currently happening in San Francisco:

[via GottaBeMobile]