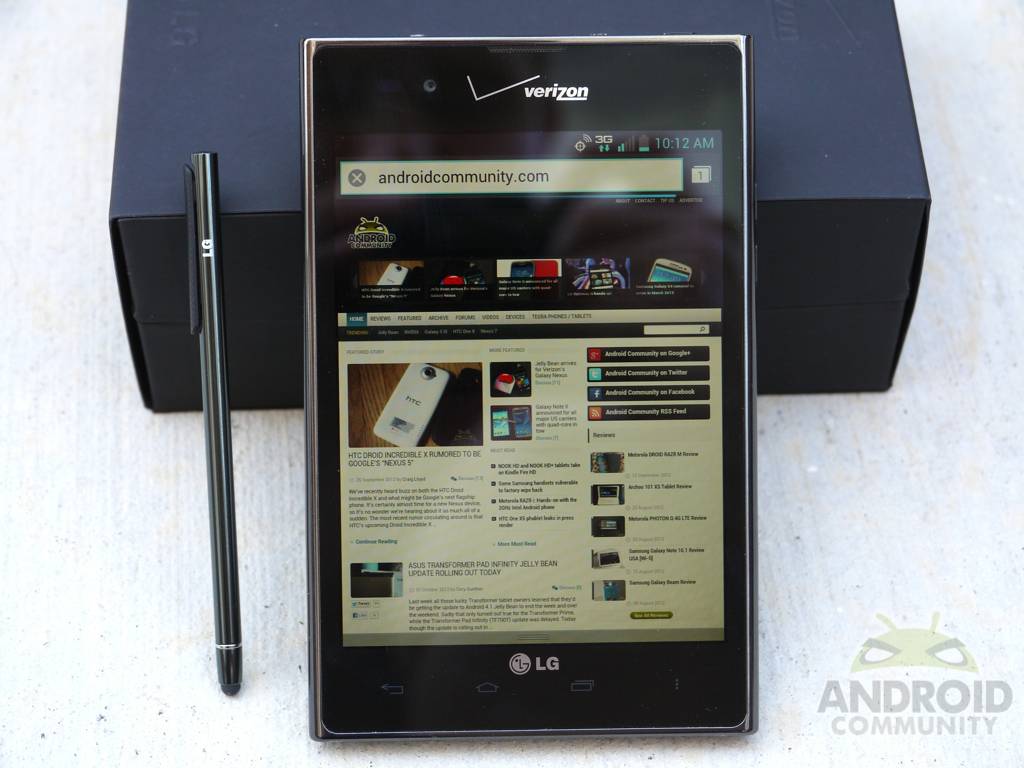 Those folks at LG and Verizon have teamed up to release their own phablet onto the market, even if it's a little late to the party. Known as the LG Optimus Vu, the new Verizon Intuition by LG with 4G LTE is available now and we're taking a look. With the Galaxy Note II quickly approaching does the Intuition have a place in your pocket? Read on to find out.
Now we aren't full sure if we'd say fit in your pocket, and that is because this 5-inch smartphone isn't like most. It rocks a 4:3 aspect ratio so it's extremely wide compared to the competition available. That massive screen sure looks pretty though.
Hardware
As mentioned above, the Intuition comes complete with a 5-inch 4:3 aspect ratio display rocking a 1024 x 768 resolution. So while it's HD, it still isn't as high as the 1280 x 800 rocking Galaxy Note, or the 1280 x 720p in the upcoming Note II. Overall the hardware is more along the lines of something we should have seen earlier this year, but since it's here lets dig in.
The Intuition comes in at 140 x 90 x 8.4 mm so it's pretty odd shaped to say the least. You won't be using this with one hand very often, and will opt for two-handed use just to feel comfortable and safe. The back is wrapped in a nice soft-touch matte black back — that almost has a leather feel to it if you ask us — which was rather comfortable. The rounded edges end up quite square on the bottom however, and makes this device extremely uncomfortable to hold for more than a few minutes at a time.
Other hardware specs include some also outdated numbers. The dual-core 1.5 GHz processor under the hood is powerful enough for almost any activity, but is the older Snapdragon S3 processor — not Qualcomm's new S4 we've seen in most devices as of late. You'll get 1GB of RAM, 32GB of internal storage, and a quality 8 megapixel camera on the rear still. Take a peek at our extended hands-on and unboxing below for a better idea of the device in-hand and more.
[vms 19a6e4b9a248c1daca18]
While the 4:3 aspect ratio is quite odd, the rest of the hardware is similar when it comes to standard smartphone design. You still get the volume rocker on the right side, but everything else is up top. That includes the power button (with LED ring) microphone, 3.5mm headphone jack, and a sliding door that reveals the micro-USB for charging and syncing. That's it folks. No HDMI, micro-SD, or slot for the stylus. Yes it comes with a stylus, but it's on its own and doesn't fit inside like the Galaxy Note. Here's a few pics:
Overall we have very mixed feelings on the hardware — in all regards. Clearly the specs under the hood are old and slightly outdated considering they aren't lowering the price compared to the competition. Then the entire design and sheer size of the smartphone is a mixed bag of feelings too. It feels weird in the hand, is massive next to your head, and is uncomfortable to say the least with one-handed use, and with two due to the sharp corners. LG recently announced the Optimus Vu II and hopefully they address some of these concerns. Aside from the actual design and size, the device feels great, is durable, the screen is crisp and beautiful, and the camera works great.
Software
On the software side of things we came out pretty impressed however. You've got Android 4.0 Ice Cream Sandwich on board, with face unlock in-tact. Then LG's added their subtle changes to the OS and added a few treats for their stylus and Quick Memo support. You can actually draw your own icons with their stylus should you choose — but I'm no artist so left that alone. As far as pre-installed apps, you have the usual Verizon bloatware along with a few unique and included apps from LG like the Quick Memo mentioned above. Here's some screenshots of the app tray for an idea:
Quick Memo worked great and the toggle button on top of the device near the power button is a nice touch. Simply tap that and you'll instantly be drawing on the screen, taking notes, circling comments in an email to save or forward and more. It's extremely quick, easy, and accessible on the go. Hitting it with one hand might be a task however — especially for left handed users. The Rubberdium pen is easy to hold and fits well in the hand and is slightly thinner than a pencil. Again it doesn't store in the device so make sure you keep track of that little stylus or you'll lose it quick.
Other changes include quick settings to change the browser from mobile to desktop mode. They've added a slider to open zoom and on-screen navigation functions, and there's even a aspect ratio fix setting for the odd app that doesn't scale to their unique size — but most have worked without failure here. Last but not least is NFC support and they've included some LG Tag+ tags for quick settings. You can set one in the car and tap it to instantly set the device to business or "work" mode, or use them for a variety of other uses. The LG Intuition comes pre-set with Car, Office, Sleep, and User modes, each of them bringing you a standard setup for their respective environments — as well as custom options should you choose.
Benchmarks and Speedtest


We ran a few quick benchmarks just to see how the 1024 x 768 resolution, 5-inch display, and last generation specs held up to the competition. Even though the device has some older specs under the hood it still performs quite well. Obviously the benchmark results are lower than the Note II and Galaxy S III, but in terms of daily use and sheer multi-tasking — it handled everything with ease.
Then as usual we've ran some 4G LTE tests just for good measure. This varies from location to location, and by city so this isn't fully ever accurate. We did however notice results were slightly better in this particular location than a few Samsung devices in the past. With Verizon 4G LTE it's safe to say you'll be blazing through app updates, YouTube videos in HD and more without any problems or notorious loading circles.
Camera and Battery Life
The Verizon Intuition by LG comes equipped with an 8 megapixel camera on the rear with 1080p video capabilities, as well as a 720p front camera for video chat and self portraits. For some reason I prefer the rear camera to be centered like many Samsung devices, so it was a little odd trying to move around with this being on the side, but we can't dock points because most cameras are positioned that way on smartphones. Here's a few camera samples with the camera and video capabilities.
For batter life you'll be working with a 2,080 mAh battery under the hood — which certainly could be bigger if you ask us — but managed okay. Between the large 5-inch display and the battery draining Verizon 4G LTE we still were decently impressed. With heavy usage however the device quickly died in less than 8 hours, but for the average user it should make it through an entire day on a single charge — but you might want to have a charger handy for those busy drawing and writing on screen daily.
Competition
For now the only real competition for the Intuition (Optimus Vu) is Samsung's Galaxy Note that arrived much sooner to the market. It offers a larger display, thinner design, and a body that isn't quite as wide. Add on the fact that it has S-Pen stylus storage, removable battery, and a micro-SD slot for expanded storage makes this LG a hard sale. For those stuck on Verizon the choice is clear, as this is your only choice. When the quad-core 5.5-inch Galaxy Note II hits the streets early next month it will sadly leave the Intuition in the dust. So Verizon users, either get this now or hold off another month and pick up that awesome Note II instead.
Wrap-Up
To wrap things up we'll have to end with the fact that while this device is decent — it certainly isn't for everyone. The lack of newer hardware, no micro-SD slot, and an odd shape make it a turn off for many. For those that loved the Galaxy Note but were stuck on Verizon should really enjoy this phone — that's if you're not waiting for the Note II.
In the end the hardware still performs great, the software is running ICS and will surely be updated to Android 4.1 Jelly Bean, and you have a device that's massive in size yet still fits in most pockets. For those that need a tablet-sized device with 4G LTE and portability this will certainly do for most office goers. This certainly is one of LG's most impressive smartphones to date, but we'd much rather have the LG Optimus G that is coming soon, or the Galaxy Note II based on initial impressions of both of those new devices. The Verizon Intuition by LG with 4G LTE is available as we speak at your favorite Verizon Wireless location. Enjoy the rest of the photos and let us know what you think of this oddly-shaped smartphone tablet hybrid.
[device id=3086]