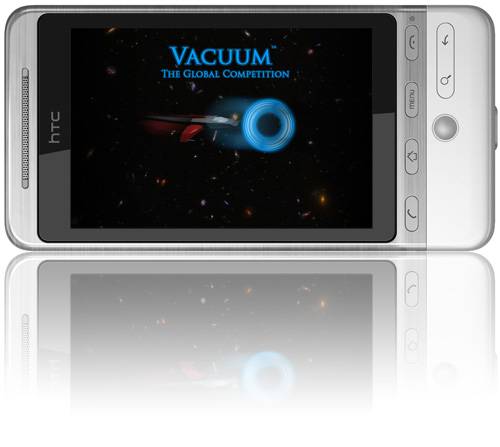 There are a few Android games that offer a worldwide leader board but none of them allows you to compete with other Android users around the world for a cash prize. Vacuum is a fast paced tunnel racer that does just that. This game was a finalist at ADC2 under the name, Atmosphere: Trainer.
An early preview was sent to us for testing and it is a very addicting game. The graphics are really good and the goal is to navigate through an asteroid-filled obstacle course, collecting as many spheres as you can all while tilting your phone like a wireless controller. This game will be released on March 20th and the first round of competition will begin April 1st.
The press release:
MADISON, WI – March 4, 2010 – Today Door-6 unveils Vacuum, a fast-paced competition on the Android platform. The game blends classic arcade action with a dynamic 3D environment. Players must navigate a perilous, asteroid-filled obstacle course, competing for the top score and cash prizes. In this successor to the acclaimed "Atmosphere: The Training Mission", a finalist in Google's Android Developer Challenge 2, your phone becomes the joystick of an agile spaceship maneuvering to collect targets along the course.
Vacuum will be released into the Android Market by March 20th, and the first round of competition will begin April 1st. The details of the contest, and its prize amounts, will be announced soon.
[youtube]http://www.youtube.com/watch?v=-9N5XsQr7tU&feature=player_embedded[/youtube]
[via door-6]