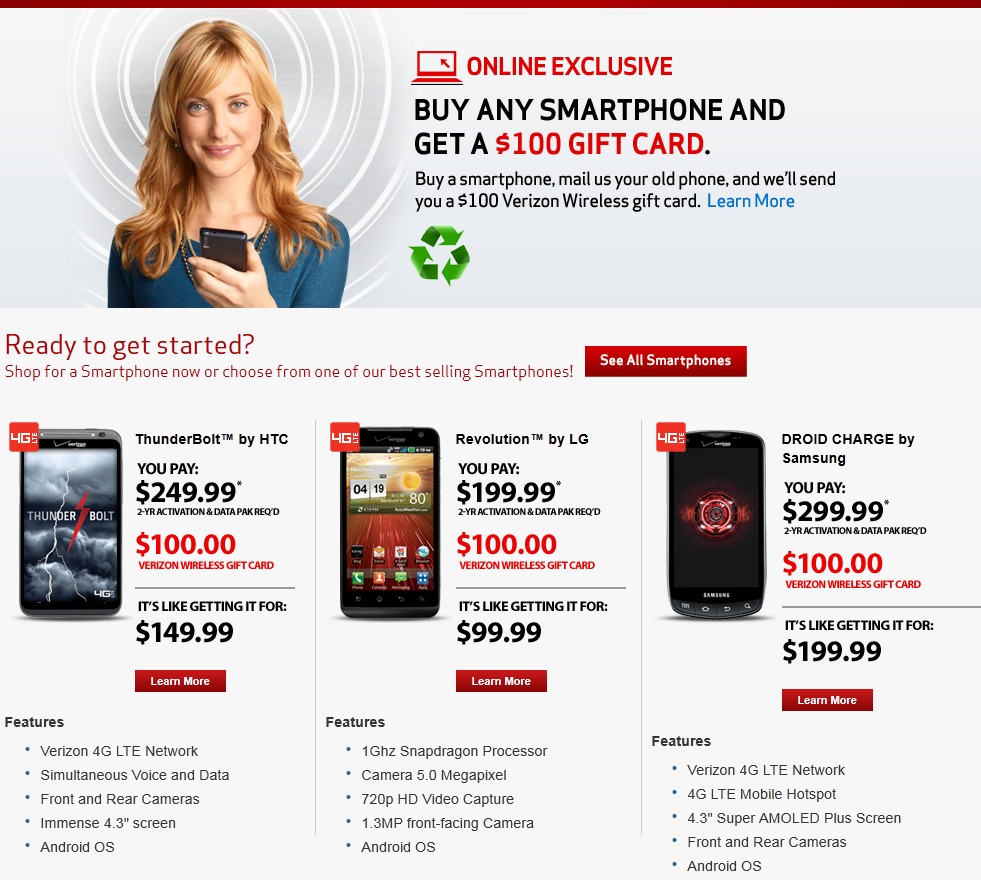 Everyone likes a good deal and now Verizon is all set to introduce their new trade-in program. It's actually really simple, upgrade to a new smartphone and then mail them your feature phone (dumbphone) and they'll send you a $100 gift card you can use as you please. Sounds pretty great right? Obviously this deal varies a bit with new subscribers and what not but they are offering this to almost anyone eligible for a new plan, upgrade, and all new subscribers.
If you are already a subscriber at Verizon you are still eligible for the deal if you are ready for an upgrade, or if you add an additional line of service. Here is how it works according to Verizon:
-Activate a Smartphone line of service with a new 2 yr contract agreement and data plan (or resign).
-Within 5 days, you will receive your promotion code via email or text message after you've activated your phone.
-Then, visit our Trade-In program web site to submit you request along with your promo code.
-You will receive a postage paid envelope (within 5 days) and mail in your used basic device. You must return your device within 30 days of trade-in submittal.
-Allow up to 3 weeks for us to process your Verizon Wireless Gift Card.
-Receive your $100 Verizon Wireless gift card in the mail. Use it to pay your bill, buy accessories, purchase ringtones and ringback tones plus more.
That may seem like a lot of steps but it really isn't. Buy a new amazing smartphone like the upcoming Droid Bionic, wait for an email, ship your old phone back, wait a bit longer and boom — you just got $100 dollars. I'm reading that this is an online only special but you may be able to call in or head down to your nearest store and give it a try.
Now go get with the times and upgrade to an Android smartphone already.
[via Verizon Wireless]