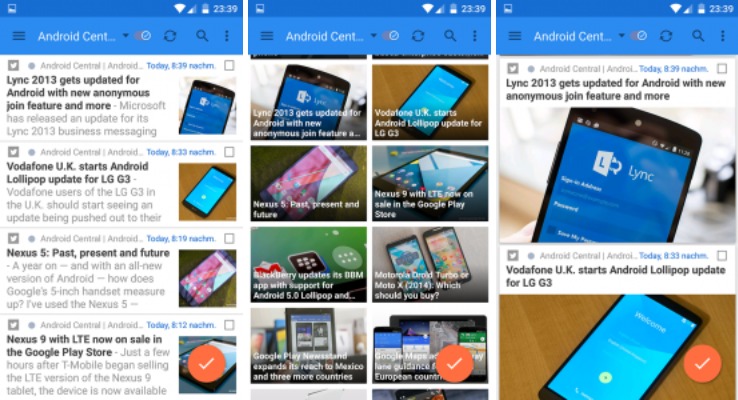 With Android 5.0 Lollipop slowly rolling out to various devices in the next few months, more and more developers are continuing to optimize and adapt some of the design and features to their apps. The Material Design guidelines that Google has been pushing for their products as well as the latest Android update is making its way to a lot of apps, two of those being RSS reader gReader and ebook app Moon+.
gReader version 4.0.0 has undergone an almost complete redesign, seeing the RSS reader (a great replacement for the dearly departed Google Reader) adapt the guidelines from Google, while at the same time adding their own new features to make life easier for users. There is no more navigation bar at the bottom and instead, some of the buttons like sync, toggle unread features and item options are now on the action bar while mark all as read is a floating action button. When it comes to viewing your stories, aside from the list and grid options, you can also now use the Card view, which is a bigger thumbnail version of the list. You can also now choose other colors for your themes, including green, sepia, dark, or brown, aside from the default blue.
If you're tired of reading news items from the Internet, then you can turn to reading digital books. Moon+ Reader Pro is one ebook reader that is challenging Kindle, Kobo, Google Play Books and the like, and version 3.0 is also doing a Material Design revamp. The update also brings new options for bookshelves and book search. Your ebooks can also now be synced on Dropbox and you also get to monitor the statistics for your reading history.
You can download gReader for free from the Google Play Store. Moon+ meanwhile is at 50% off until January 4 so you can get it for just $2.49 instead of its usual $4.99.