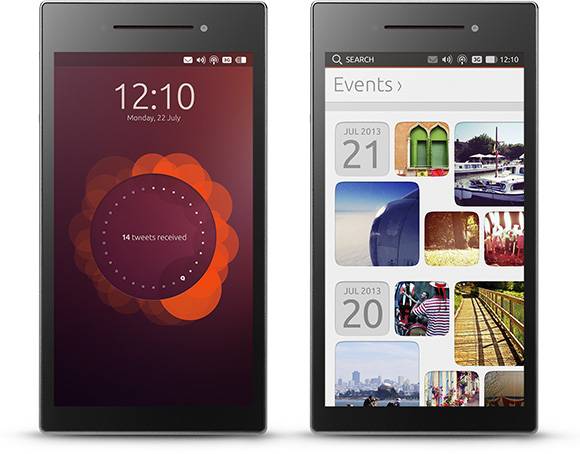 Canonical has officially launched an Indiegogo campaign for the Ubuntu Edge smartphone. This handset is still aways off in terms of delivery, however those curious can commit some money and get one of the first units to arrive in the hands of the public. Given the Ubuntu in the name it should go without saying that this handset is running Ubuntu Mobile OS. The interesting bit is that it is also running Android.
Simply put, the Ubuntu Edge will be a dual-booting smartphone. And to add another layer to that, the Edge will also be able to turn into a full Ubuntu desktop computer when docked. That last bit is the reason for Android. Canonical has said the Ubuntu desktop will be available from the Ubuntu for Android app. This will be available from day one. A future software update will also bring the ability to launch the Ubuntu desktop from Ubuntu Mobile.
The handset running Android should also help with any concerns about the lack of available apps. With that in mind, Canonical has said they have the Ubuntu SDK available and that will allow developers to create a single app that runs on the desktop, tablet and phone. Plus there is also the option to go the HTML5 route. The handset itself is sporting a 4.5-inch (1280 x 720) sapphire crystal display and powered by the "fastest multi-core CPU." There is also 4GB of RAM and 128GB of internal storage space.
Other goodies include an 8 megapixel rear-facing camera, 2 megapixel front-facing camera, WiFi 802.11n, Bluetooth 4.0, NFC, GPS, dual-LTE and more. Of course, those specs all come with fine print that reads "specifications are subject to change." One other tidbit that may help ease the minds of those who are nervous buying into a new platform is the guarantee.
Canonical has said will "push out monthly Ubuntu software updates to add features and polish, and we guarantee to keep supporting the phone for three years." Then comes the price, single units of the handset are available for as low as $600 — if you purchase by Tuesday July 23rd at 16:00 BST and otherwise, that same handset will set you back $830. These are expected to be delivered by May 2014.
SOURCE: Indiegogo