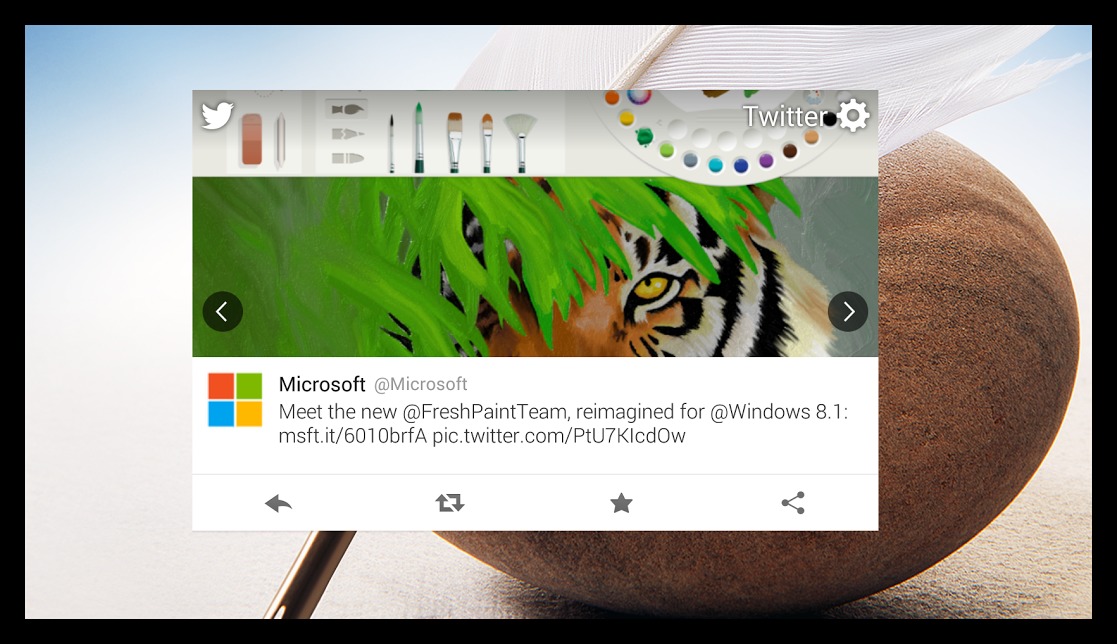 Twitter has announced a tablet optimized Android app today. While that by itself may sound like great news, there is a catch. You see, at this point the app only supports one model. The tablet is the Samsung Galaxy Note 10.1 2014 Edition, which arrived in the US market as of today. On the bright side, the folks at Twitter have promised the app is also coming to other tablets.
That being said, as one could likely guess given the support for the Galaxy Note 10.1, the app brings a focus on some of the key features including multi-window and the S Pen. The multi-view is similar to what we have with other Galaxy Note optimized apps and means you will be able to browse your Twitter stream while also doing other things such as watching a video.
Shifting over to the S Pen and this is another that Galaxy Note users should be familiar with. For all others though, using the Twitter app on the Galaxy Note 10.1 means you will be able to draw on and share images (on Twitter) from the photo gallery on your tablet. And as you can see from the image sitting below, there are a few options for color and line thickness.
Aside from the Samsung specific features, the app is designed to be used in landscape orientation and a single tap of a tweet will expand the details on the right side. This right side pane will show the finer details such as the images, videos or article previews. Going further, another tap will then expand things out to see those images, videos and articles in fullscreen mode.
The app also brings a widget. The widget experience will be similar to what other Twitter for Android users already see and simply means you will able to browse your stream without launching the app. In addition, the widget will allow you to see images and videos and also favorite and retweet.
Finally, touching back on the support. As mentioned, for now Twitter for Android tablets is limited to the Galaxy Note 10.1 2014 Edition. The good news is that other device support is coming. Details from Twitter mention that it "will first be available on Samsung tablets" and that "it will come to other Android tablets by the end of the year."
SOURCE: Twitter Blog