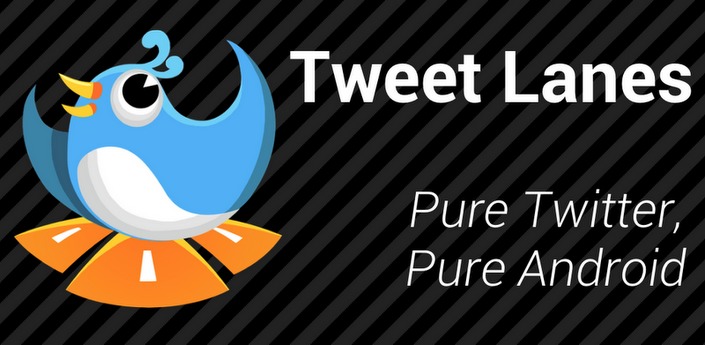 Have you been dying to find an awesome new Twitter client for your Android smartphone? Ever since Twitter bought TweetDeck they've left it for dead, and the stock Twitter app isn't that great. What we have for you all today is a brand new app called Tweet Lanes — and it's awesome. They call it "Pure Twitter, Pure Android" and we'd have to agree.
The Developers Digital Ashes have brought what we love about Android 4.0 Ice Cream Sandwich to a stock, yet powerful Twitter app. All the design elements we expect and more have been integrated. Along with unique feature like scrolling through your feed with volume up/down, reporting spam, and more. Check out this Twitter fuelled, Ice Cream Sandwich inspired goodness! Here's some of the features worth mentioning:
– The native Android ICS styling has been shamelessly applied to Tweet Lanes, which makes for the most beautiful Twitter client available on Android.
– Designed and engineered to adhere strictly to the Android Design guidelines.
– Fully embraces the Android swipe controls (and headers).
– VolScroll™ – Use the hardware volume buttons to quickly navigate your feed. Very handy on larger phones such as the Galaxy Nexus and Galaxy S3!
– Interact with multiple tweets at the same time using multiple selection. Very handy for replying to multiple people in a single tweet or blocking spammers.
– Multiple account support.
– Automatically preview images and videos in your feed.
– Get ready for a new means of tweeting. There's no 'New Tweet' button here. Instead, the ever present Context Tweet Box will serve all your tweet-creation needs.
Being able to interact or reply to two tweets at the same time is a breeze. Just tap on both tweets and they'll be highlighted and from their you just type in the "always there" context tweet box to quickly reply. It's extremely easy, intuitive, and quick. The context tweet box looks just like any compose box in ICS, and is always available. You'll never have to tap on a "compose" icon at the top. Then VolScroll is amazing. I didn't realize I'd like scrolling with volume keys so much, but each tap goes one message at a time so you'll never miss a tweet — ahh I love it!
The app is still in its early stages and they don't offer any settings yet, so you'll get an error if you head to that aspect of the app. The developers also plan tons of impressive new features in a paid version, but you can get it free for life by trying their early version today and tweeting about it. My hands-on screenshots below should give you a better idea of what to expect from this awesome app, or just head to the link below and download it today. This is Twitter for Android done right!