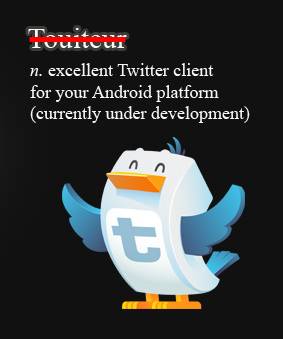 Touiteur, the popular Twitter client for Android, has recently been asked to change its name by Twitter themselves. According to Twitter: "Touiteur" can be seen as a misspelling of "Twitter".
Very interesting move on the Twitter team's part, but LevelUp Studio is ready to comply. They have announced that they will be changing the name of the popular application and are asking users for suggestions and to vote for their favorites.
You can head over to their official voting page and vote for which names you like the most. My favorite: The App Formerly Known As Touiteur. The LevelUp team will let us know when a decision is made.
What do you think? Touiteur/Twitter? Too similar?
[Via LevelUp]