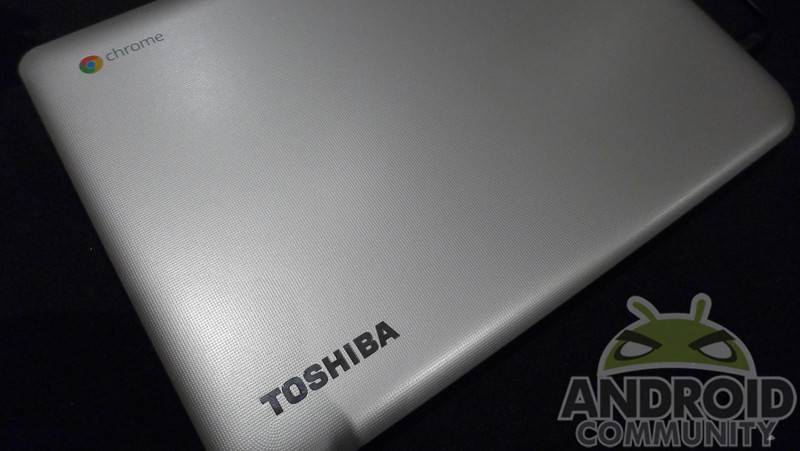 Toshiba entered the Chromebook market here at CES 2014 with a 13.3-inch notebook. This has them sitting in sort of a middle ground as many of the other Chromebooks are sporting an 11-inch display. Then we have the HP Chromebook 14. But while Toshiba has found the middle ground in terms of display size, the resolution will come in at a familiar 1366 x 768.
With that in mind, the display was good to look at. We certainly cannot say this is the highest quality display on a Chromebook, but it should suffice for regular day-to-day use. The sides of the Toshiba Chromebook are where the ports are found. One side has a pair of USB ports along with a headphone jack and HDMI. The other side has the power and a memory card slot.
The keyboard proved spacious enough for typing and is the traditional Chrome style keyboard. Or in other words, it is sporting the search key as opposed to the caps lock key. The trackpad was a good size, and perhaps more important — it seems to work well and without any delay or jumpiness.
Toshiba has this one weighing in at 3.3-pounds and the overall build-quality seems to be solid. This is a plastic construction and as you can see in the image sitting below — is textured. The other key measurement for this model is the thickness, which is 0.8-inches. Other highlights in terms of specs show this powered by an Intel Celeron processor with 2GB of RAM and 16GB of SSD storage.
As for being out and about and being able to leave the power cord behind — Toshiba has said this one should be able to provide up to nine hours of battery life. The Toshiba Chromebook 13.3 will be available in mid-February and it will arrive with a price point of $279.