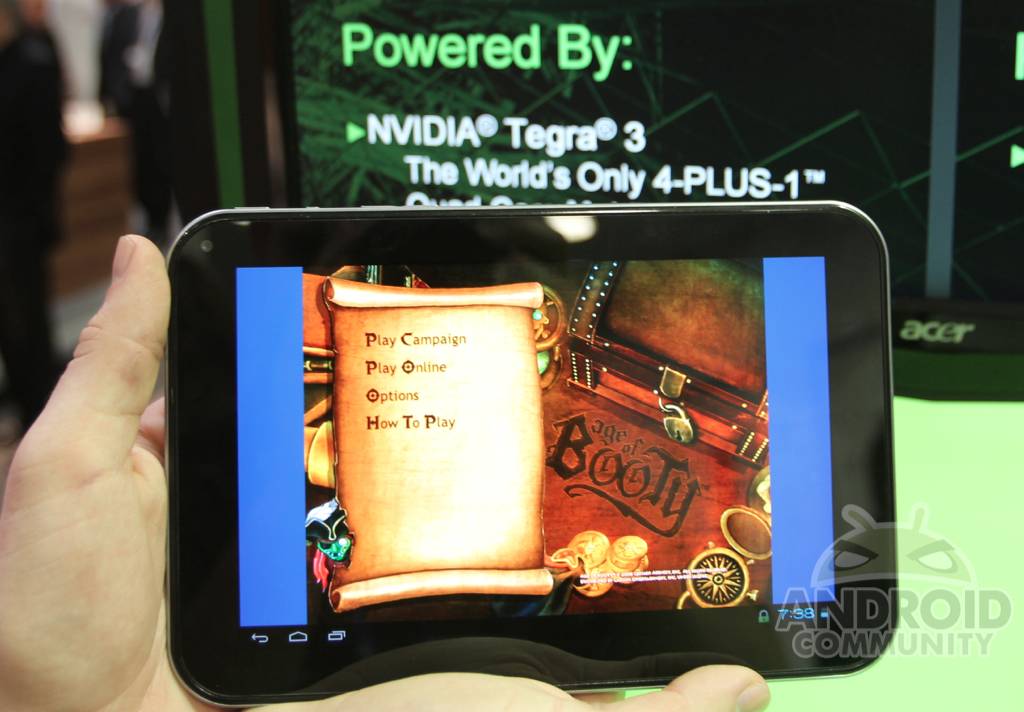 And you thought Toshiba's super-skinny Excite was… uh… exciting. Get a load of this 7.7-inch version of the hardware, with the all-important (and seemingly ubiquitous) addition of an Nvidia Tegra 3 processor. The beautiful little tablet is code-named the AT270, and in addition to the processor it sports a full 1280×800 AMOLED(!) screen, 1GB of RAM and – wait for it – Ice Cream Sandwich. This one's obviously in the early stages of development, but shows a lot of promise already – we'd be very surprised if it didn't reach retail shelves at some point this year.
The most striking thing about this tablet is its thin profile – we didn't have any calipers handy, but it looks to be in the 8mm range all the way through. If that doesn't sound impressive, consider that a 7-inch tablet – particularly one with the same specifications as the Transformer Prime – has a lot less internal room to work with. Speaking of internals, storage is either 16, 32 or 64GB of storage, and it's got a handy MicroSD card on the side – yes! All that, and the unit on display is lightweight to boot, though that does raise concerns about battery capacity.
Enough chitchat – check out the hardware in action below:
[vms ecdc50e4249581b861f8]
Were it to come to market, this Toshiba tablet would compete directly with the likes of the Samsung Galaxy Tab 7.7 (for the screen) and the Asus MeMO 370T (for the processor), possibly beating both. Nothing set in stone, of course, but to say we're excited about the AT270 would be an understatement. Here's hoping that some more finalized hardware makes it across the pond to CTIA in May. In the meantime, make sure to keep an eye on our Mobile World Congress portal.