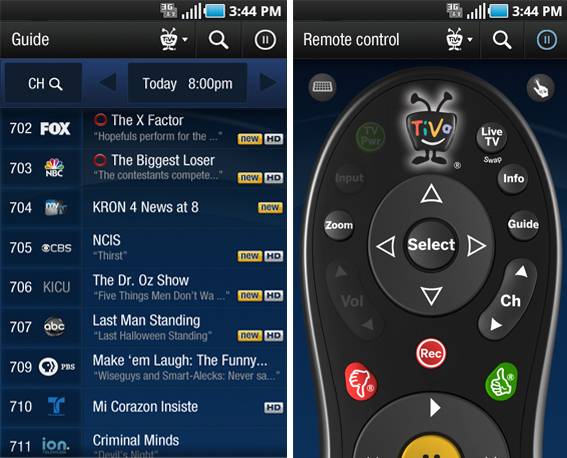 Set-top-box control is nothing new to Android, but today the original timeshifting TV add-on gets comfy with Google's favorite son. A recent update to later TiVo boxes adds functionality via a new Android app, which you can download in the Android Market. The standard remote scheduling and guide views that we've seen from DirecTV and others are available, as well as a virtual remote for hardware that supports it. Social features integrate Twitter and Facebook into your couch potato habits.
Setup isn't as straightforward as it could be: you'll need an Internet-connected TiVo to start (via Ethernet or WiFi) then you have to dig through the TiVo settings to access your Media Key. Enter the key into the app on your phone or tablet, and you're ready to go. Once connected you can view your local schedule, set up recording and season passes, and manage the media that's already on your TiVo. A  built-in remote will send controls through the Internet to your TiVo, just in case your infrared remote is lost in the wasteland between the cushions.
One of the more interesting features is the addition of social commenting. Whenever you're watching a show you can pop into the TiVo app to automatically post relevant updates Facebook and Twitter. This is especially handy for tablets, which make a pretty perfect surfing-while-watching form factor. Just remember not to spoil the season finale while you're watching it, or the Internet will hunt you down.
[via Cnet]