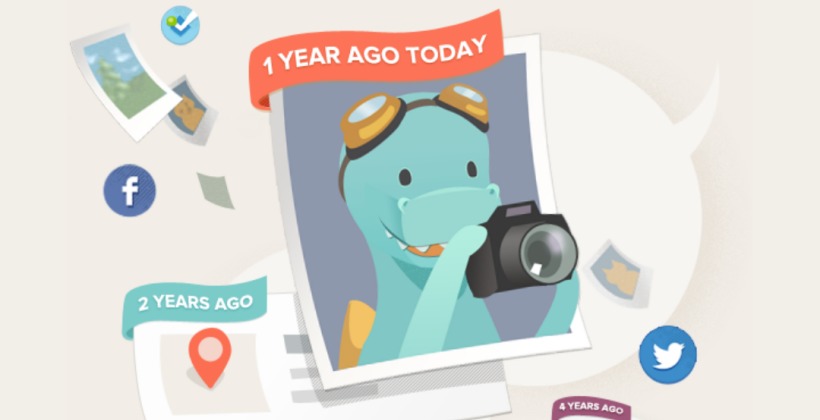 Lifelogging seems to be becoming a trend, but what if you just wanted to go back to the time before lifelogging was even a thing? What if you wanted to remember what you were doing on this exact date last year? Timehop is an app that does just that for you, provided you have the necessary photos and social networks, of course.
To celebrate its birthday last month, Facebook launched Look Back, which creates a montage of your best and worst moments on Facebook. The feature seemed to have become quite popular as people try to grasp their precious memories. Even Twitter launched a similar feature, though #FirstTweet only focused on your very first tweet.
Timehop does the same for the memories you have stored mostly online via social networks, and some kept private in your device's gallery. The way it works is that Timehop will connect, with your permission of course, to various social networks, like Facebook, Twitter, Foursquare, etc. and with your own local gallery. Each of the data sources can be connected or disconnected, although a Facebook account is required to get started. Armed with these pieces of data, it then creates a timeline of photos that could give you a clue what you were doing on a particular date a year ago, two, three, or even four years ago. From time to time, Abe, the dragon mascot, will give some remarks about your past activities. You can even share it on Facebook, Twitter, or any app or service that is supported by Android's sharing framework for group reminiscing.
Unfortunately, there are some limitations to what the app can do. For one, Timehop only delivers fresh retrospectives per day. There doesn't seem any way to manually enter a date, so you'll have to wait for a complete year before seeing yesterday's timeline. It seems to also be limited to photos only, which feels like an arbitrary limitation considering it already has access to social networks anyway. Privacy considerations aside, it might be interesting if Timehop could also display tweets, status updates, and maybe even messages, though photos and videos are, admittedly, probably more interesting.
Nonetheless, even the way it is right now, Timehop is an interesting app and a great way to hold on and relive life's precious moments in this fast-paced digital world. The app is free on Google Play Store, so why not give it a spin and see what you were doing last year on this very day.
Download: Timehop on Google Play Store