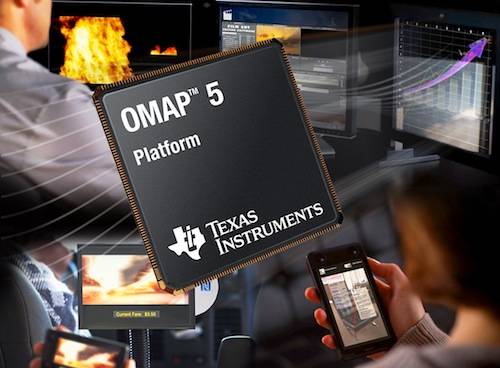 With everyone trying to build up excitement around their devices with Mobile World Congress kicking off next week, Texas Instruments has just released an impressive video demo today. With quad-cores getting the spotlight lately Qualcomm and TI have been showing off their latest dual-core platforms and that is exactly what we have today.
This video below shows the TI OMAP 5 against a quad-core ARM Cortex-A9 processor that's presumably the Tegra 3. The Tegra 3 is four A9 chips mashed together and the new TI OMAP 5 platforms is actually their newest multi-core technology of two A15 processors working seamlessly together. Qualcomm recently released something similar although only benchmark results of their new S4 platform that is quite similar to the TI OMAP 5. They also pitted their processor against the Tegra 3, showing us that obviously both of these companies are a little worried — and they should be.
The video shows the two tablets downloading videos, playing an MP3, and running through 20 pages of EEMBC's BrowsingBench and more. See it below for yourself. A quick note the TI OMAP 5 is two A15 cores at 800 MHz and two Cortex M4s along with a SGX544 MP2 graphics. The other feature a 1.3 GHz quad-core Cortex-A9 processor.
https://www.youtube.com/watch?v=_kgPlsczhZg
As the video above shows we have two tablets running on Android 4.0 Ice Cream Sandwich running a set of looping benchmark tests of some sort. While this is something we've never seen and can't compare to others we'll leave the thoughts to you guys. The left is the TI OMAP 5 dual-core A15 processor, and the right is presumably the Tegra 3 in a Transformer Prime tablet.
The Texas Instruments OMAP 5 clearly puts up its dukes and blows past the other device. TI's chip was more than twice as fast (in this particular set of tests) and is capable of having battery saving features and low speeds, then ramping up to around 2 GHz per chip when needed. We could see even faster speeds from both the TI OMAP 5 and the Qualcomm S4 but for now Texas Instruments is expecting a late 2012 arrival of the OMAP 5.
Thoughts?
[via SlashGear]