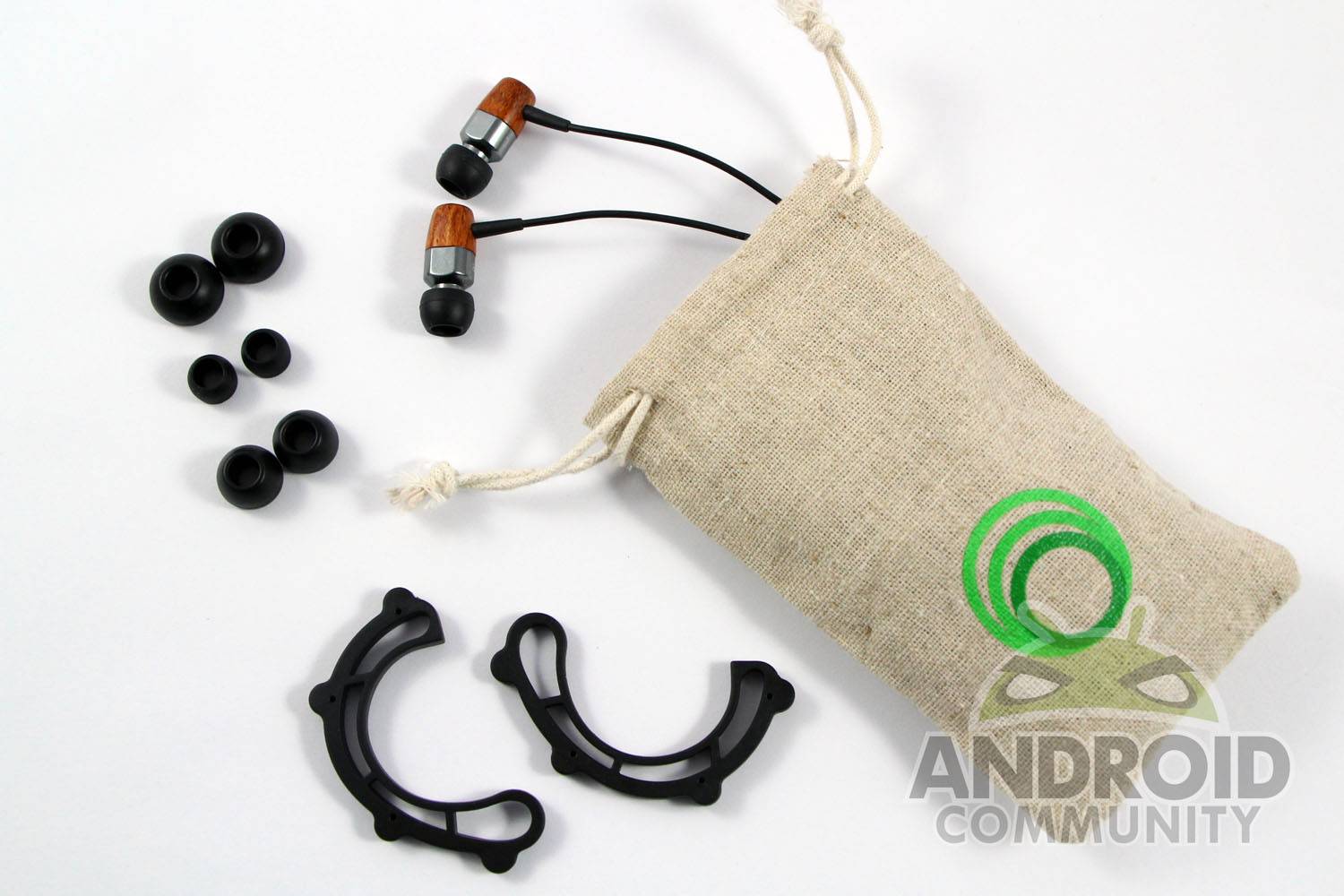 Here at Android Community, we go through a lot of earbuds. Almost every phone we receive for review has its own companion pair (we're practically swimming in Samsung buds) but all of them have one thing in common: they're kinda cheap. If you've been looking to upgrade your sound with easily portable earbuds, ThinkSound's series of high-end options have been popular for a while now. The company sent us a pair to review, and after using them at CES, we were downright floored by the quality.
The first thing you'll notice when opening the ms01's eco-friendly packaging is their unique styling. Yup, that's real wood that those buds are made out of, which the company claims makes for a more rich and acoustically correct experience. The metal frame extends to 8mm speakers housed in comfy foam tips, and you get four sizes to choose from. Also included in the package are a pair of ear clips for active wear (which are, unfortunately, almost useless), a snappy cord organizer and a canvas carrying bag to keep it all together in.
The ms01 earbuds are marketed as a "studio monitor", and aren't meant for sweating it out in the gym. They also don't include in-line controls or a microphone – for the latter, you can try some of the other models in the ThinkSound store. The cord is reinforced with Kevlar, and if that isn't enough protection, they come with a one-year warranty. The headphones aren't really intended for mobile phones, but we'll forgive that, and you're about to find out why.
UPDATE: Apparently all of ThinkSound's current models are rated for a good bit of sweat resistance. Thanks to ThinkSound CEO Aaron Foster for his timely response in the comments section. 
What these buds do best is sound: they're nothing short of the richest and most accurate-sounding earbuds I've ever had, short of custom-fit models at three or four times the price. The 18-20khz range makes mids and highs absolutely clear, and while bass is a little lacking, the sound is rock-steady all the way through even the highest volumes. And that's pretty high, thanks to what ThinkSound is calling passive noise isolation, AKA "a fit that's good enough to block out a good chunk of external sound".
I was skeptical of this claim… until my CES roomie knocked on our hotel door three times without me hearing. With four sets of tips you're sure to find one that makes a good fit in your ear canal. It's not going to block out busy road noise or a screaming baby on a plane, but with even light music playing you should be gloriously free of distraction.
At $99.99 MSRP I probably wouldn't have bought the ms01 earbuds for myself… until I tried them out. If you want great sound with no frills and unique styling, they're well worth the entry price, and they've replaced my trusty old Sennheiser over-the-ear headphones for everyday listening. There are a few issues, like the aforementioned earclips and L/R icons that are almost invisible on the shiny metal bands. But overall the ms01 earbuds are the best lightweight, high-fidelity pair you're going to find for a hundred bucks. Investigate the ts02+mic and ts01 Sport models if you want a microphone and sweat resistance, respectively.