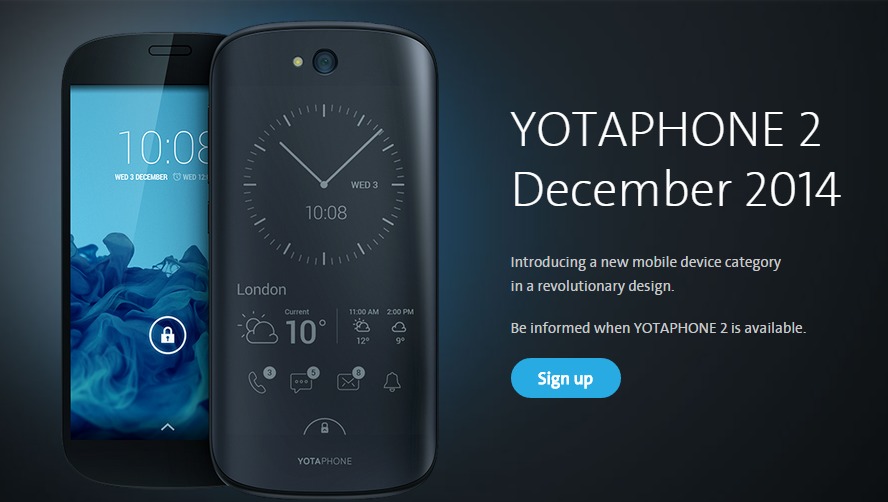 If we had written this piece say in 2013, you could be forgiven for thinking that the makers of the YotaPhone had just complete lost all sanity. That is, of course, until the advent of Samsung's Galaxy Note Edge, which had manufacturers thinking out-of-the-box on what they can do with another touchscreen surface. Granted, what the YotaPhone has is completely unexpected and unorthodox – but you can't say it isn't worth a look in these modern times.
Modern smartphone design conventions will say the screen goes on the front, the camera on the back. But what if you utilize both front AND back spaces as active touchscreens? There definitely would be more real estate now to do more – but do what? The YotaPhone, being manufactured by Yota Devices who are mostly based in Moscow, is a smartphone that has a secondary (or another primary, however you want to view it) screen on the back of the device where the camera is. That screen is a monochrome e-ink screen that functions pretty much like a normal touchscreen does, sans the color.
The YotaPhone 2, which has turned quite a few heads at in the Mobile World Congress 2014 in Barcelona early this year, is scheduled to finally launch this month, so we're quietly anticipating that. The specs are pretty decent – it sports a 5-inch 1080p AMOLED screen as the main display. The back display is called the "Always On" display and it is a 4.7-inch 960×540 E-ink grayscale screen with full capacitive touch functions.
Under the hood, there's a 2.2Ghz Snapdragon 800 quad-core processor backstopped by 2GB RAM and Adreno 330 graphics. The internal storage maxes out at 32GB and theres an 8MP/2.1MP camera combo with LED flash. Will this interest you? Tell us what you think in the comments section.
SIGN-UP: YotaPhone
VIA: Hi-tech@Mail.Ru